Jaime King's Blue Hair Look That Fans Envy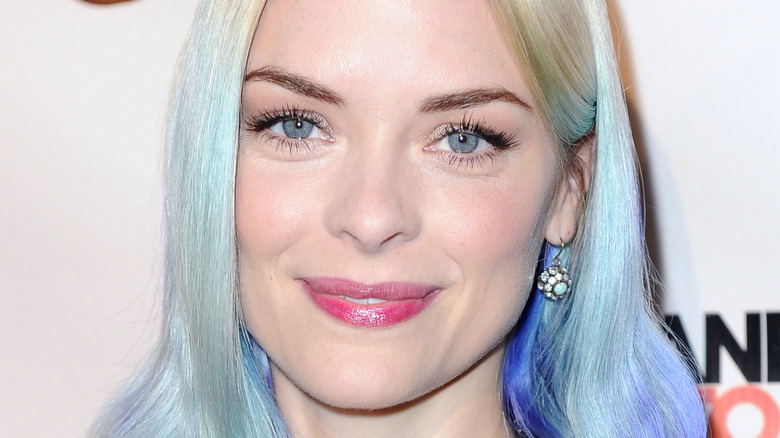 Allen Berezovsky/Getty Images
Some celebrities are constantly switching up their hair colors. Not only do these A-lister transformations keep us on our toes, but sometimes it seems these celebs look different every day! (We're looking at you, Kardashians.) Then, there are the celebrities who stick to their tried-and-true beauty look. Think Ariana Grande with her signature ponytail or Gwen Stefani with her pop of red lipstick. It's not often that these stars switch things up in the style department, which makes their transformations all the more special. Case in point: Jaime King is known for her gorgeous blonde locks (among other things), so she shocked fans by stepping out with blue hair back in 2012!
As Cosmopolitan UK noted, King's updated beauty look followed in the wake of celebs like Katy Perry and Selena Gomez. Her new 'do featured a super fun ombré style with blonde at the roots, light blue in the middle, and dark blue at the ends. The unlikely color also made her baby blues pop! However, since celebs usually spring for pricey salon cuts, it was the fact that this hairstyle was completely DIY which made it truly unique.
Jaime King dyed her hair at home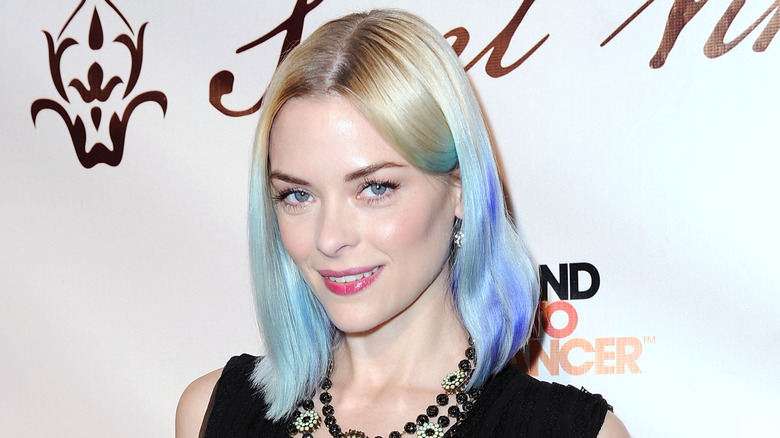 Allen Berezovsky/Getty Images
According to Byrdie, Jaime King took a bold route by dyeing her hair right at home. That's not all! The "White Chicks" star told the outlet that she'd actually had her partner at the time help her with the dye job, which she debuted at the Saint Vintages Love Tour Benefitting Stand Up To Cancer in 2012. "I've always wanted to dye my hair a different color, but I couldn't because of contracts, so when I wrapped the first season of 'Hart of Dixie' I just said, 'Let's do it,'" King said. "My husband and I went to the drugstore and bought purple and blue dye. My husband always colors my hair for me. He's a director, but he's also a painter, so I go to Tracey Cunningham, she mixes my color, and then Kyle [Newman] paints it on. He painted this on at home one night."
Per People, King split with her husband of 12 years in March 2020. The actor, who shares three children with her estranged ex, also filed an emergency motion related to child custody following the split. In response, Newman issued a statement in which he expressed he "wants nothing but the best for his whole family and hopes that Jaime can find the peace and help she needs," according to People. Though the two might have been on the same page in the beauty/coloring department, there were clearly larger problems in their marriage.
Jaime King's signature blonde hair needs special care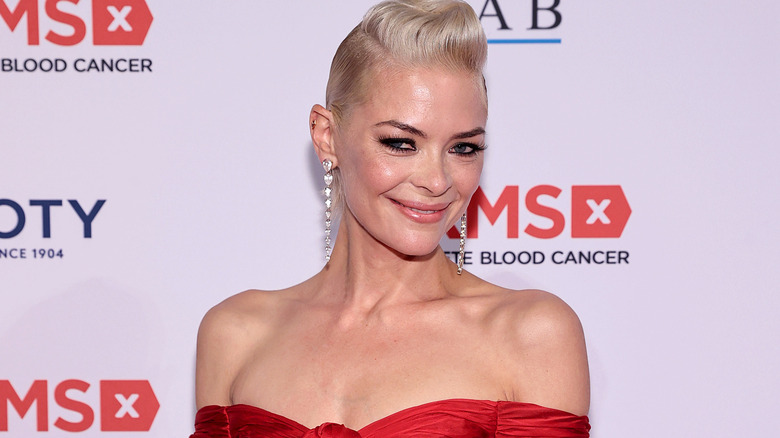 Dimitrios Kambouris/Getty Images
Jaime King might not stray from her signature blonde hair too much, but her natural shade still needs some care. According to a 2019 interview with Byrdie, King dyes her roots every month and she uses a special shampoo to maintain her color. As the actor told Byrdie, her go-to products include Kerastase's hair mask and Davines Momo Shampoo and Conditioner to keep her hair looking great. "My hair is curled every single day for my show," she told the publication. "So I need something to keep it really smooth, silky, and shiny." The products are definitely on the more expensive end, with the shampoo ringing in at $30 for an 8 oz. bottle, but if it gives users King-level shine, then it's likely worth a try!
Since debuting her blue hair, the most drastic change King has made has been cutting her hair short, per PopSugar. As the outlet notes, the star chopped her locks into a bob to welcome the New Year in 2019, but fans can probably agree that she looks stunning no matter what shade or color her hair is.