Why Denise Richards Regrets This Controversial Selfie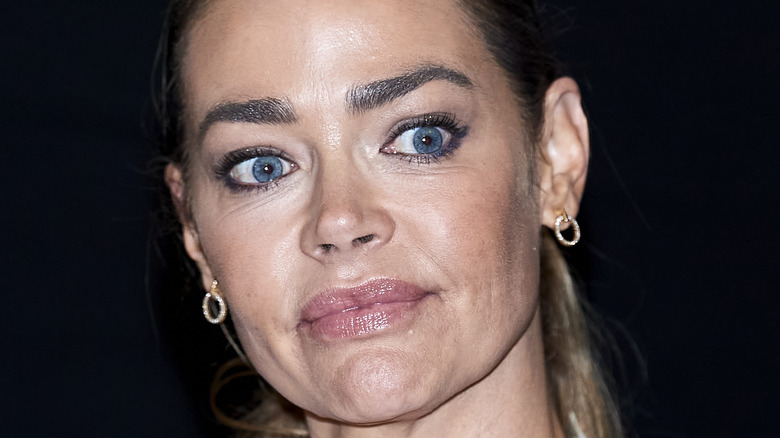 Carlos Alvarez/Getty Images
Former "Real Housewives of Beverly Hills" star Denise Richards knows her recent selfie, taken aboard an airplane, was in poor taste. The mom of three received backlash when she posted an image of her maskless face captioned "on a jet plane" to her Instagram Story (via Page Six). "Anyone that is upset that [I'm] not wearing a mask I'm hiding under a [hoodie and] huge winter coat," she continued, adding these layers were better than any mask.
Twitter was quick to condemn the share, with one critic tweeting, "U SHOULD B ASHAMED OF YOURSELF FOR NOT FOLLOWING THE RULES FOR THINKING U R ABOVE THE MASK RULE I HOPE THEY BAN U FROM FLYING." To be fair, another Twitter user defended the actress for always wearing a mask, including in the airport.
In fact, a source close to Richards told People, "Denise realized it wasn't the right thing to do to post the picture. In reality, she wore her mask the entire time except when she was taking sips of water. She believes in masks, and she really does follow the rules."
Another source told the outlet about the star that she is "not one of those people who is anti-masks. The way she handled it was strange, posting the photo. She's ready to admit she was an idiot to post the photo!"
Denise Richards' apology doesn't satisfy everyone
More sources were quick to defend Richards after she shared the mask-free selfie from the plane, with someone else telling People, "She was just flying home, sitting in her seat, and she put a coat over her head... you're allowed to take a sip of water and pull your mask down. So when she took her mask down, took it off for a second to relax and drink water, she posted this thing 'I hope nobody's upset' and she thought it was tongue-in-cheek. But people did not think it was funny."
A quick scroll through Richards' Instagram confirms she wears face masks, as she has shared multiple photos in which she sports the mouth and nose covering.
Still, even after People published the story about Richards realizing the error of her ways, Twitter was still lighting up with criticism. "Everyone on a plane must wear a mask including u. A winter coat doesn't cut it. Your free not to wear a mask but u don't get to make that choice on a plane with others. We care about u getting other people sick since we don't know what u may have!!!!" one person opined. At time of writing, the star had not personally addressed the controversy.