Ben Carson's Comments About COVID Testing Have The Internet Seeing Red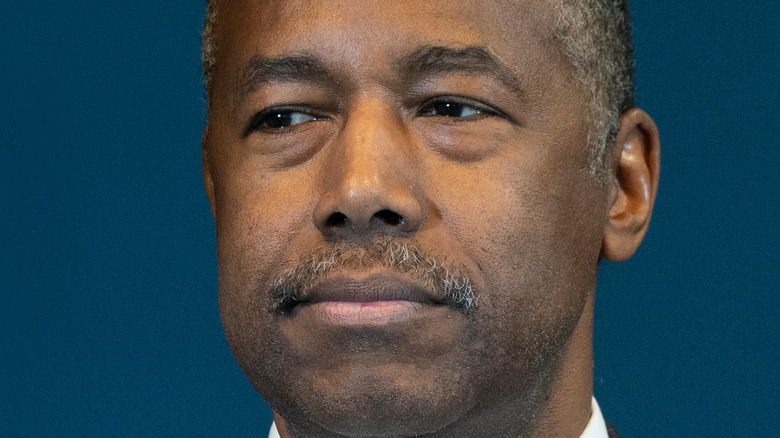 lev radin/Shutterstock
While most Americans know Ben Carson as a politician, his career started as a surgeon (via The New York Times). Carson was performing roughly 400 surgeries a year at Johns Hopkins Hospital in Baltimore, Maryland. A former colleague of the surgeon, Dr. Anthony Avellino said, "When he walked around Hopkins, he was like God."
There are good reasons why his former colleagues may find him God-like. According to The Baltimore Sun, Carson pulled himself out of poverty and became a success story. Bishop Frank Reid, who met Carson at Yale, gushed about the former surgeon, "This young African-American who grew up in poverty and could have been put in jail or suspended from school made something great of himself. It was the American Dream." Reid added, "We believed he could walk on water."
After performing the first successful surgery that separated twins conjoined at the back of the head, Carson was royalty in the medical field (via Britannica). However, his link to the administration of former president Donald Trump made him fall from his pedestal quickly. Now, people are especially unhappy about his comments regarding COVID-19.
Twitter was fuming after Carson made these comments about COVID-19 testing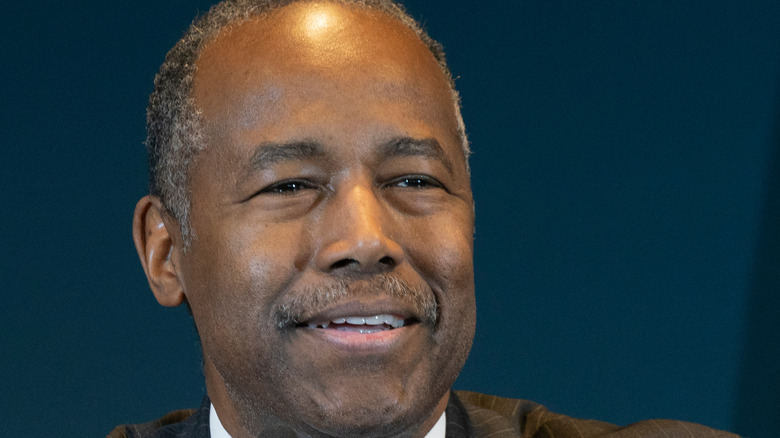 lev radin/Shutterstock
In mid-December 2021, Ben Carson made comments about testing those who are asymptomatic for COVID-19 (per NewsOne). On the topic, he said, "I personally think we should seriously give thought to not testing people who are asymptomatic." Carson shared, "Like I said, we're going to end up with a real problem. We're going to have massive numbers of people who test positive. What are we going to do? We're going to shut everything down? It just doesn't make any sense, and, particularly, when you're dealing with something that doesn't make people very sick."
Carson, who was part of Donald Trump's COVID-19 task force, continued, "I mean, you may get a sniffle and maybe a slight cough, you're not gonna be very sick. And it's going to spread very, very rapidly. Pretty soon everybody's gonna have it."
The comments were not accepted well by the public, especially on Twitter. One user wrote, "I seriously think you have brain damage, Ben Carson. We have to test the asymptomatic to BREAK THE CHAIN OF INFECTION."
Another tweeter penned, "Some years ago when I was working for the Baltimore Sun and Ben Carson was at Johns Hopkins, I interviewed him. I was going to write a book about him. That man pioneered hemispherectomy in children. This guy, whoever he is, makes me believe in body snatchers."
People were not holding back on Twitter, clearly disappointed by the advice a doctor would be willing to share for all to hear.