Here's What You Need To Know To Wrap Your Christmas Presents Like A Pro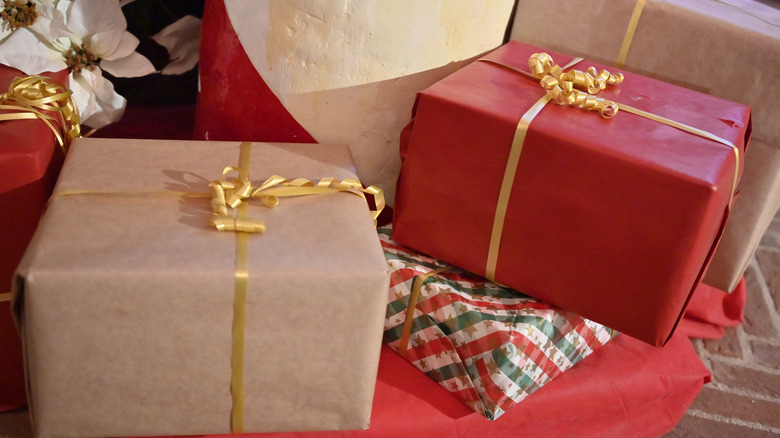 Stefano Guidi/Getty Images
It's that time of year again. Buying gifts for your friends and family members can be stressful. However, wrapping all of those gifts can also be time-consuming. Of course, there are some tips and tricks to help you along the way. Creating a wrapping station is one way to save time, per Family Handyman. Gather all the materials that you'll need including wrapping paper, scissors, bows, ribbons, boxes, bags, and tape. Keep them all together at the station so that you can quickly and efficiently wrap gifts when you have some spare time.
Be sure to secure any fragile gifts and use tape to keep your boxes in place on the wrapping paper. Folding the edges of the paper can also give your gifts a cleaner look (via Real Simple). Of course, adding extra touches such as bows, ribbons, or little pieces of decor like ornaments and candy can also jazz up your holiday gifts.
Tips to help you save time and create beautifully wrapped gifts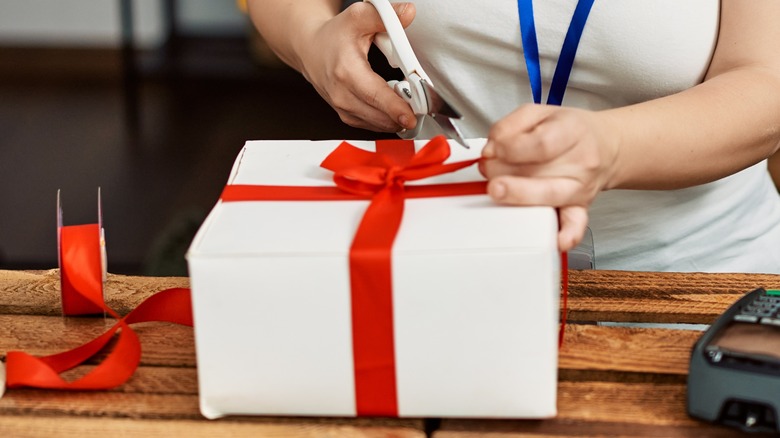 Krakenimages.com/Shutterstock
When it comes to the holidays, you'll want to make sure that you have everything you need to create a gorgeously wrapped gift. Using sharp scissors is a must for wrapping your Christmas presents, per Family Handyman. 
Another way to make things easy, and give your gifts a unique and elegant look is to use initial stickers instead of gift tags. In addition, don't skimp when it comes to using tape. Be sure to tape down boxes and edges so that the paper is tightly bound to your gift. Sticking to a color scheme can also make your gifts look beautiful and save time, as you can use the same colors when it comes to embellishments.
When it comes to oddly shaped gifts, it will be much easier if you can find a box to place the item in before wrapping. If your gift isn't in a box, the wrapping can look messy, no matter how much effort you put into it, per Country Living. Some people even use double-sided tape to cut down on wrapping time.
However you choose to wrap your gifts this holiday season, remember that it's the thought that counts, and your loved ones will likely love whatever you give them.