What We Know About Michelle Young's Engagement Ring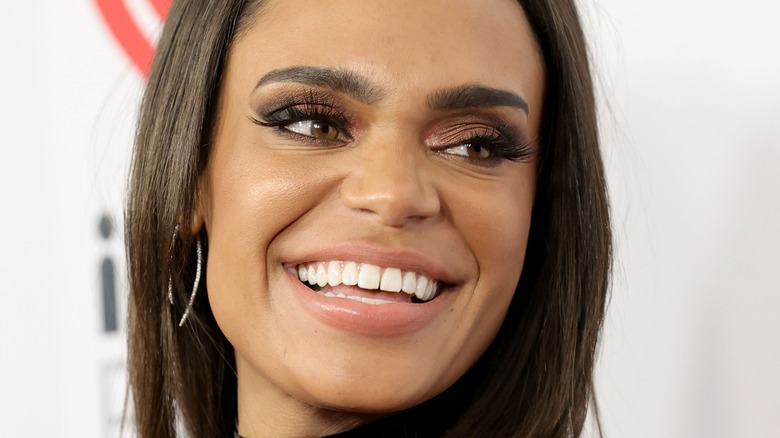 Amy Sussman/Getty Images
Michelle Young ended her run as "The Bachelorette" on Tuesday night when she got engaged to one of her contestants, Nayte Olukoya (via Yahoo! News). Following the big finale, where Nayte popped the question and Michelle happily accepted his proposal, the reality star opened up about the couple's relationship. "I fall more in love every day. I was fortunate enough to grow up in a family with a healthy marriage and I thought, I'm not going to give up until I have that. He's my person. And I didn't know I could love at this level," Michelle told People.
Of course, Nayte also admitted how he's been feeling since meeting Michelle and making her his future wife. "It's so natural for us to be together," Nayte said after "The Bachelorette" finale. "I've never felt the way I feel before. I'm all in!" Nayte went on to reveal that he and Michelle have been happily living life away from the cameras since filming ended. "The show only lasts so long. Now it's done and we're just two people madly in love going down this road. And we're each other's rocks for life," he said.
Now that fans know that Michelle and Nayte are engaged, they want the details about the elementary school teacher's engagement ring.
Neil Lane reveals details about Michelle's ring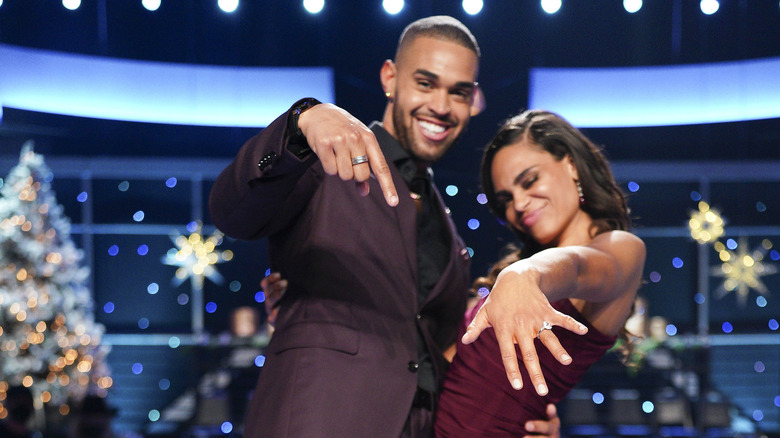 ABC/Christopher Willard
During the finale of "The Bachelorette," Michelle Young revealed her love for Nayte Olukoya and the two decided to spend their lives together. Nayte popped the question on the beach of Punta Mita, Mexico with a stunning 3.02-carat pear-shaped ring that included 46 round cut diamonds and two tapered baguette stones. Before the proposal, fans watched Nayte strive to find the perfect engagement ring for Michelle with famed jeweler Neil Lane (via People).
"Usually from the 1930s to 1960s, most rings had tapered baguettes. They were really a mid-century design. I went back in time because she's a classical beauty," Lane said. "I also wanted to do something very modern and very relevant today with a pear shape. The little tiny diamonds of halos around it, again, bring it back to a vintage thing, which they did in the early 1900s," the jeweler added.
"The pear shape really mesmerized him," Lane said of Nayte's love for the ring. "He saw the classic-ness in it. He was really excited and kept bouncing up and down. He had this joyful smile on his face. The ring radiated [Michelle]'s beauty and lust for life," Lane continued. "It was like their relationship. Every time you turn the ring a little bit, you saw a different sparkle. They found their person," he added.
It seems that Nayte chose the perfect ring for his new fiancée, and fans couldn't be happier for the couple.