The True Timeline Of The Chicago Franchise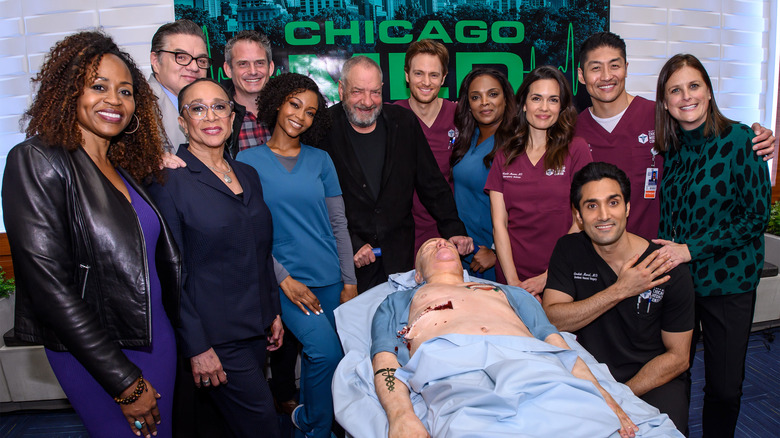 Timothy Hiatt/Getty Images
The "One Chicago" universe can be as confusing as it is enticing. With countless plot lines, crossovers, and characters coming and going; there is a lot to keep track of. And if you're a newcomer to the city of Chicago and its public servants, it can be hard to know where to start. So, let's take a look at the true timeline of the "Chicago" franchise. Once you find your footing, you're sure to dive right in and be swept up in no time.
For those not yet in the know, the world of "One Chicago" includes four shows: "Chicago Fire," "Chicago Med," "Chicago P.D.," and "Chicago Justice;" per Showbiz CheatSheet. "Chicago Fire" was the show that started it all when it premiered in 2012 and prompted the three spinoffs. "Chicago PD" came along in 2014, with "Chicago Med" coming just a year later, and "Chicago Justice" first airing in 2017 and being cancelled after a single season. The franchise is the brainchild of Dick Wolf, the man behind another fan favorite, "Law & Order: SVU." While the world of Olivia Benson and Elliot Stabler isn't fully integrated into the "One Chicago" universe, it does come up from time to time. 
While the order of premiers is pretty straightforward, the watch order doesn't follow it exactly. You'll want to watch the shows somewhat simultaneously to get the full effect. 
How to watch the One Chicago franchise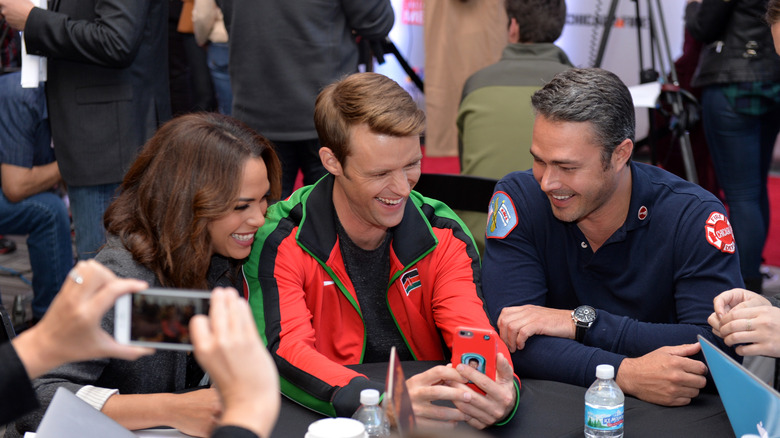 Daniel Boczarski/Getty Images
Each series in the "One Chicago" franchise has its own storyline and characters, but the amount of crossover calls for a bit of chronological coordination. Of course, those who caught the shows from the beginning watched them in release order; so that's a perfectly acceptable way to watch. But another approach is watching them in order of crossover episodes. There are many of them, so if you want it all to make sense, you'll have to pay attention to the release dates of the new series. For example, you'll start with "Chicago Fire," but once you reach the 2014 episodes, that's when you'll want to begin "Chicago P.D." and so on. 
Cine Dope offers a full list of crossover episodes, including the dates that they aired. Following the crossovers, you can map out an exact watch path that will help you to experience all of the tension and release of the "One Chicago" crossover romances. It's worth noting, too, that there are a couple of crossovers with "Law & Order: SVU," so you may want to add that classic into your queue as well if you don't want to miss a single moment. In fact, the first crossover episode is "Law & Order: SVU" Season 15 Episode 15, part one of two. 
No matter how you choose to approach the "One Chicago" universe, it is sure to satisfy.