Where To Buy The Exact Sneakers Lily Collins Wore On Set Of Emily In Paris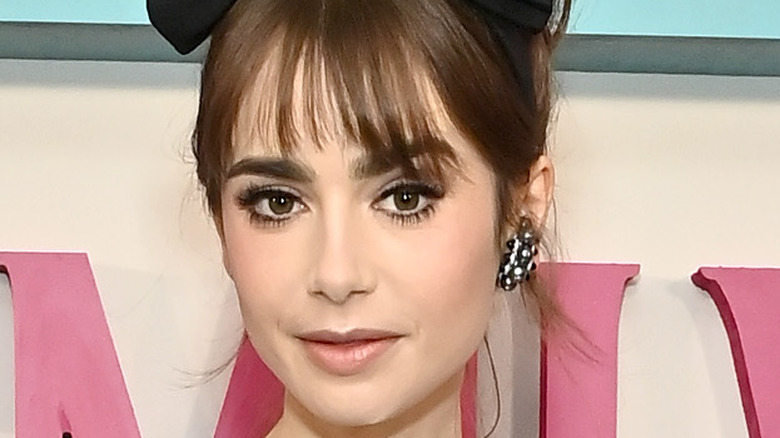 Stefanie Keenan/Getty Images
When "Emily in Paris" debuted in 2020, it became our guilty pleasure to watch as a semi-unrealistic depiction of Paris through the eyes of an American (via Bustle). Critics found issues with this show, according to the New York Post, but we loved losing ourselves in the series and daydreaming about strolling around the romantic streets of Paris while wearing the most expensive couture. Even if you don't care about fashion, it's fun watching Emily and her friends run around in their über-expensive and fun outfits that probably cost more than your entire rent. This fashionista might live in a tiny apartment with a gorgeous view but had a wardrobe filled with designers like Christian Louboutin and Kenzo (via Elle). We especially loved her fashion moment when she wore an off-shoulder Christian Siriano black dress at the ballet channeling Blair Waldorf. Très chic!
We were so excited when the show came back with a bang in Season 2 with an upgrade and even chicer sense of fashion (via Vanity Fair). Just take a look at her outfits. While she loves to take a risk with colors and style in the show, Lily Collins likes to keep things pretty casual and comfy on the set with sneakers that she loves running around in (via Who What Wear). We know you want your own pair of these classic Nike sneakers too, but where can you find them?
Where to get your own pair of Emily in Paris sneakers
"Emily in Paris" is such a fun and visually appealing show that added so much joy to our lives during this pandemic. Though we might not be able to afford her designer wardrobe, we can definitely get our hands on the cool sneakers that Lily Collins loves and was wearing in one of her Instagram posts. When Collins shared a picture of her and co-star Ashley Park wearing Nike Air Pegasus '83 Sneakers, we knew we had to buy them for ourselves (via Who What Wear). Apparently, she loved these sneakers so much that she wore them throughout the set of Season 2. 
These Nike sneakers have a leather lining with a rubber sole and come in a stone and bronze colorway. It has a lace-up design and a back pull-up tab so you can slip it on effortlessly without dealing with tying the shoelaces. These sneakers are also available in a gray and blue colorway, and will look amazing with jeans or leggings, which is how Collins wore them when not filming. Don't wait too long to get them for yourself. 
This way, you can own yourself at least one fashion find from "Emily in Paris." So French, so très magnifique!