The Best Sunglasses If You Have A Square Face Shape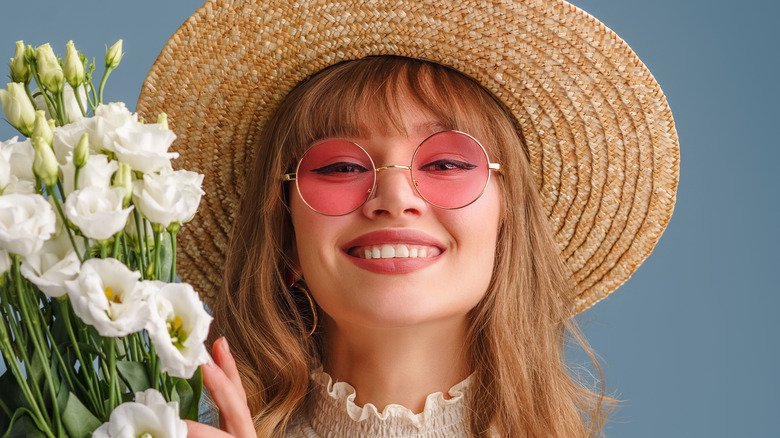 Shutterstock
As the temperatures soar and the sun shines brighter, it's time to try on a fun new pair of sunglasses for the season. Picture it — an ice cream truck popsicle melting in your hand, your new bikini under your cutoffs, and the perfect uber-chic shades to match. This summer, it's all about sunglasses that are just a tad minimalist and retro. As per Who What Wear, huge trends to watch out for this 2021 are sportsman-style 1970s frames, anything "retro round," extra-angular cat-eyes, and anything considered "XXL." While all these trends are extremely covetable, it's important to always think about what the most flattering shades are for your specific face shape – whether it's a pointed-chin heart-shape or an angular, elegant square. 
According to celebrity stylist Michael Duenas, you have a square-shaped face if "your forehead, cheekbones and jaw [are] the same width, but your jaw will have sharp angles to it," via Today. This shape is similar to a round face in its equal dimensions, but is much more angular. Also, squares are known for super-enviable cheekbones à la Olivia Wilde and Mila Kunis. Clearly in good company, square shapes should look for sunglasses that add a certain roundness to the face, and smooth over its sharpness. Creating some delicate curves will be important in avoiding a severe look, especially when trying out new trends like wrap-around aviators and chunky, acetate rainbow frames we can't stop drooling over on Instagram. Here are all the best sunglass styles for square-shaped faces.
The most flattering shades for square faces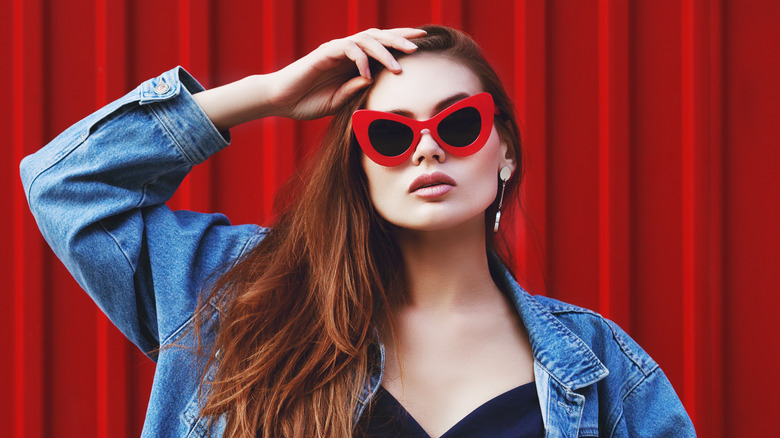 Shutterstock
As per Kraywoods, square shaped faces are defined by "bold, angular features" with a broad forehead and a strong jaw. When it comes to choosing your perfect summer sunglasses, it's all about rounding these sharp features out and giving your face "a more balanced look." One way to create a perfect contrast is opting for round frames, which will add delicate curves to your face. Moreover, they're the perfect boho-chic addition to any look, especially in on-trend gold like Ray Ban's Round Metal sunglasses.
Another ah-mazing style for square faces? Large, oval frames, which Oprah Magazine says "soften a square jawline" and are "perfect for anyone who wants to channel Jackie O's signature style." Kraywoods agrees, saying this style is "the best" for squares and will bring roundness to "strong angles." Go the retro route with Le Specs Outta Love shades in black, which are everything 'grammable and convenient all in one. If you're looking for a fun pop of color, these RAEN Figurative Oval Sunglasses in pink will also do the trick. 
If you're not too into round glasses and want some angles in your life, look no further than a good cat-eye frame. As per Kraywoods, this style will "balance out your strong jawline," and Zenni Optical notes that cat-eyes' "narrow frames elongate the face," while also softening the features. Channel old Hollywood glam with a pair of rounded cat-eyes like these Celine Acetate Cat-Eye Sunglasses, and prepare for lots of stares!