The Surprising Similarities Between Princess Charlene And Kate Middleton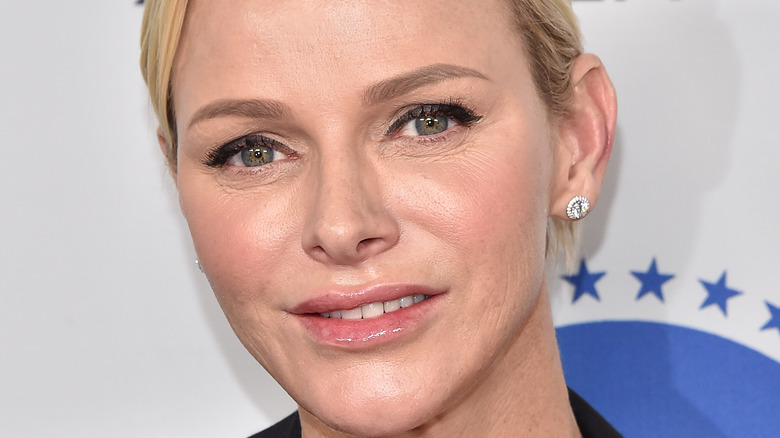 DFree/Shutterstock
Even though Princess Charlene of Monaco has been reported saying that she doesn't "want to be Kate [Middleton]" it's hard to deny the similarities between the two (via Express). For starters, the two women don't come from aristocratic families. They both married into royalty in the same year, 2011. What's more, both Princess Charlene and Kate Middleton have mothers-in-law Hollywood continues to obsess over: Princess Diana and Grace Kelly.
The ghost of Princess Diana actually haunts both royals, albeit in dramatically different ways. For Middleton, the late Princess Diana's presence is missed but honored. Middleton even wore the engagement ring Diana had picked out for her engagement to Prince Charles.
While Middleton wore the ring, it was Princess Charlene who relived the nightmares of Diana's royal engagement. After Prince Charles and Diana officially announced their engagement, Diana lived at Buckingham Palace where she was isolated from friends and family (via History Extra). Charlene, too, was isolated in Monaco after she became engaged to Prince Albert (via The Daily Beast). Not only did she not know anyone, but Princess Charlene also didn't speak French, the local language. "If [their relationship] was a fairytale romance, then it was the Brothers Grimm version," Ross Coward wrote of the couple in The Guardian.
But being commoners and their connection to Princess Diana aren't the only things the two royals have in common.
Kate Middleton and Princess Charlene are both athletes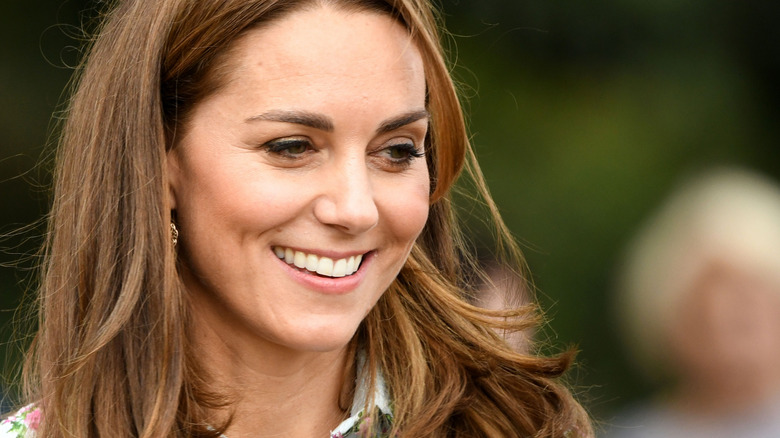 Bart Lenoir/Shutterstock
A passion for sports is another surprising similarity Princess Charlene and Kate Middleton share. In fact, both women even made their royal dating debuts at sporting events: Prince William and Middleton made things publicly official during a ski trip in Klosters, Switzerland in April 2004, which became a spot the duchess was frequently seen with Prince William (via Shape). Meanwhile, Princess Charlene's debut was as Prince Albert's date to the opening ceremony of the 2006 Winter Olympics (via Monaco Tribune).
The 2006 Winter Olympics weren't the first time the princess had attended the games, however. The daughter of a former competitive diver and swim coach, swimming is part of Princess Charlene's birthright (via People). According to Hello! Magazine, the princess was winning titles by age 15, which culminated in her competing in the 2000 Summer Olympics, where she was on the women's 4x100 medley team for South Africa.
Not the Olympian her Monaco counterpart is, but Middleton has a long history of competing across a wide variety of different sports. When she was attending St. Andrew's School, the Duchess of Cambridge competed both in field hockey and tennis. Called the "sportiest royal" by Town & Country, royal duties and motherhood have not slowed Kate Middleton down. As recently as September 2021, she was photographed revisiting her love of tennis as she played a doubles game with U.S. Open Champion Emma Raducanu.
Kate Middleton and Princess Charlene are fashion icons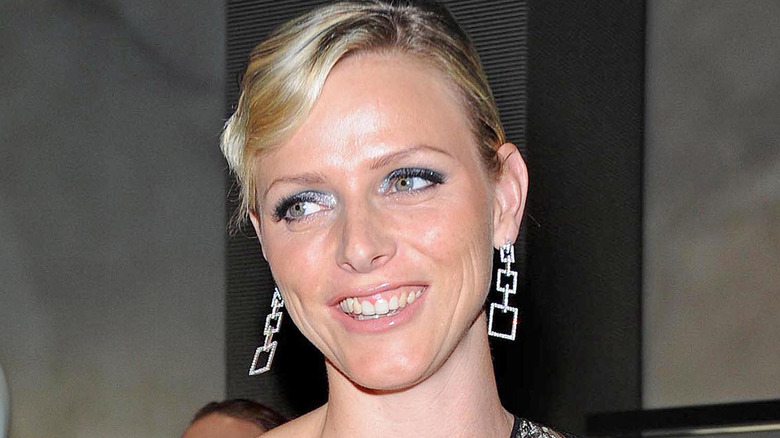 DELBO ANDREA/Shutterstock
Kate Middleton and Princess Charlene are both fashion icons in their own way. Fashion choices were actually what caught their now-husbands' eyes to begin with. Middleton famously caught Prince William's attention at a fashion show where she went down the catwalk modeling a see-through dress (via Daily Mirror). Princess Charlene, too, was sporting minimal clothing when Prince Albert spotted her at the Mare Nostrum swimming competition in Monaco in 2000, according to People. A competitor in the meet, Princess Charlene walked away with gold — and a date with the prince.
In research published by Tatler, conducted by Fashion Retail Academy in London, the Duchess of Cambridge was crowned most stylish royal. Lee Lucas, the principal and CEO of the Fashion Retail Academy explains that, "By embracing the fashion world and Princess Diana's often daring style, Kate has learned how to balance trends with tradition." Middleton's reputation for reusing dresses and repurposing pieces of outfits makes her style accessible and replicable.
Princess Charlene told Vogue in 2011 that she wants to "make Monaco one of the fashion capitals of the world." In that same article, Michael Kors said that "Charlene has the opportunity to show that you can be athletic, elegant, and youthful; you don't have to give one thing up." The princess continues to embrace bold and youthful fashion choices. In 2020, she even debuted a shaved head look showing the world just how bold and daring she still is (via RTE).