How To Make Kourtney Kardashian's Natural Lip Scrub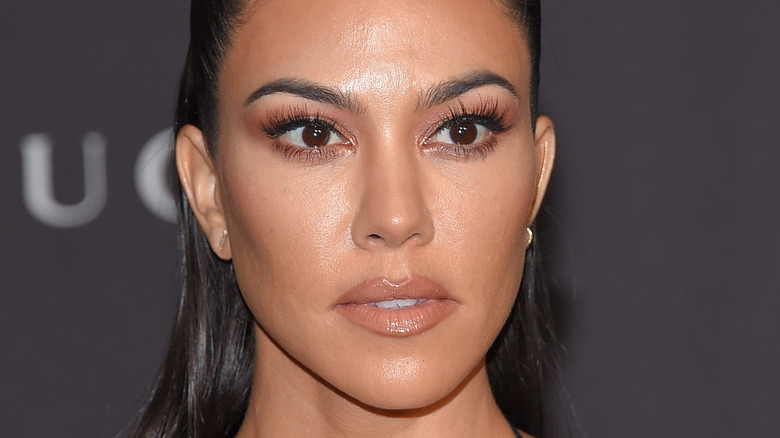 DFree/Shutterstock
Over the years, Kourtney Kardashian has become synonymous with organic, all-natural wellness. Cosmopolitan notes that while her sisters Kim and Khloe choose to mock her extreme healthy and organic choices on "Keeping Up with the Kardashians," she's built somewhat of an empire out of it. Not only does the mother of three focus all of her energy on making clean, healthy choices for herself and her children, but she's now become somewhat of an expert on the topic. She launched her very own online platform, "Poosh," with a mission to "educate, motivate, create, and curate a modern lifestyle, achievable by all" (via Poosh). 
Kourtney spoke about her goal and vision for Poosh with Health, stating, "I felt like there wasn't really [a resource] for a woman who is healthy and into wellness but also sexy and cool." Well, at 42 years old, the reality star has never looked better, so she's on to something. Naturally (pun intended), when someone looks as youthful and fresh as Kourtney does, you pay very close attention to any anti-aging secrets and pearls of wisdom she imparts.
You only need three simple ingredients for this all-natural lip scrub
Nothing feels quite as comforting and wholesome as a good old DIY home beauty recipe. We all grew up on them, mixing and mashing household ingredients to create little concoctions designed to save us a few bucks and treat our skin with safe and simple ingredients. Well, Kourtney Kardashian still swears by this one classic DIY lip scrub — and her recipe is especially simple and delicious. 
Kourtney lived up to her all-natural organic reputation when she was featured in one of Vogue's famous "Beauty Secrets" videos and shared her "Guide to Natural-ish Masking and Makeup." Kourtney shared some of her favorite natural beauty steps in the video and showed fans how to make her go-to DIY lip scrub. "I love to do a lip scrub, especially if I'm going to be wearing a bright lip or a dark lip. [It] make[s] sure your lips are really soft," she shared in the video before grabbing a bowl and combining equal parts of raw honey, coconut oil, and organic raw sugar, according to Vogue. She explained, "I just keep these products in my bathroom so that I can make them anytime," and proceeded to rub the mixture onto her lips while savoring a delicious lick or two. Being all-natural does have its perks — suddenly, beauty can be edible too.