Tips To Perfect Your Eyeliner Looks If You Have Almond-Shaped Eyes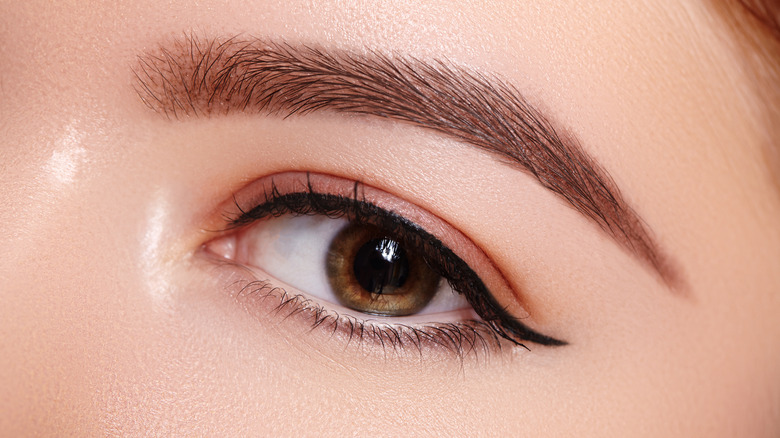 marinafrost/Shutterstock
Eyeliner is a hard makeup technique for anyone to master, no matter your eye shape. But for those with almond-shaped eyes, it's especially hard. However, there are various steps to help you perfect your favorite eyeliner look.
First, according to Makeup, start off the No.1 eyeliner tool: the eye pencil. "I always recommend pencil before liquid because it helps you sketch the line before you commit to the liquid," celebrity makeup artist Vincent Oquendo said. "Liquid liner is much harder to manipulate once it's applied, whereas pencil is far more malleable and blendable, so it's easier to work with and more forgiving."
Once you've got a good eye pencil – Good Housekeeping recommended the Urban Decay Eye Pencil — start off by following your lash line. Be mindful of your crease so that the wing isn't muddled. The outlet also added that you need to draw the eyeliner from your inner corner and follow the natural shape of your eyelid, stopping when you get to a crease. After a few tries, you'll master it perfectly.
For cat eyes and winged liner, it'll get a bit trickier. However, there are easy hacks to follow.
How to get an eyeliner wing with almond-shaped eyes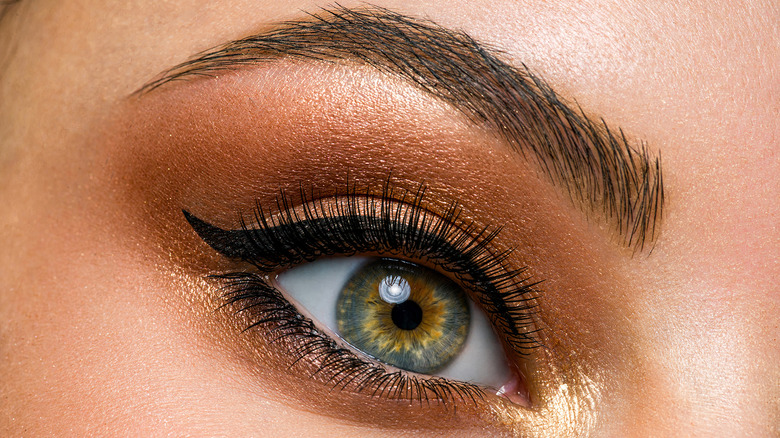 VALUA STUDIO/Shutterstock
To get a wing on your almond-shaped eyes, you'll have to master your eye shape. Once you learn your eye shape, it'll be easy, as per the experts at Makeup. Start off by creating a thicker line. Since this eye shape has a natural curve to it, a big and thick line will enhance the eye's shape. Once you get your line on the eyelid, use your wrist to angle the eyeliner upward.
"When you have almond-shaped eyes, you want to flick your wing liner upwards, which will lift and complement the eye shape," celebrity makeup artist Vincent Oquendo said.
If you're still having some trouble mastering this technique, L'Oréal recommends creating a triangle shape on your lid near your crease and fill the shape in. Slowly, thicken up until your desired shape is created. Lastly, use any makeup remover to correct any mistakes (this is where a cotton pad could come in nicely). If you're still not perfecting the cat-eye, no worries. You can always buy a stencil and get the eye look that way until you have mastered the cat-eye.