Here's What Doja Cat Looks Like Going Makeup-Free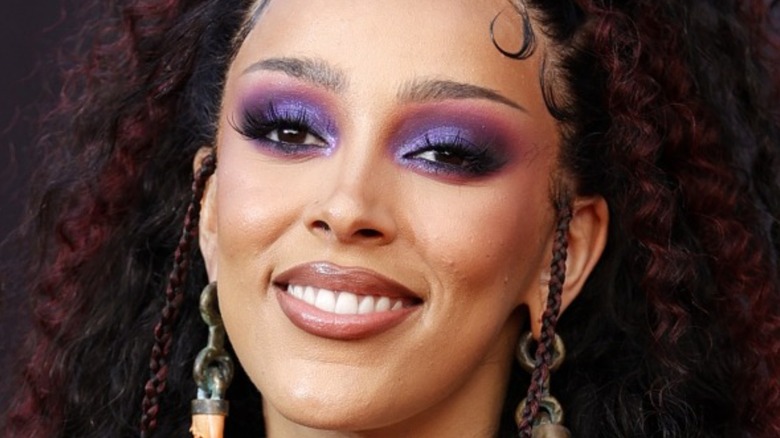 Jason Kempin/Getty Images
From her music to her personality, Doja Cat makes no apologies for who she is. The three-time Grammy-nominated singer and rapper's catchy lyrics, elaborate costumes and makeup are an extension of her craft (via Recording Academy). Exhibit A: Doja Cat hosted the MTV VMA's in September 2021, and W Magazine rightfully pointed out that her many costume changes stirred up as much conversation as her electric performance did. Her style is a big proponent of her shows.
You don't have to be a fan to see how Doja Cat's artistic choices show how much she values creative expression. As LIVEKINDLY reported, in 2021, she partnered with beauty giant BH Cosmetics on a vegan makeup line inspired by her music aesthetics. The "Say So" singer is known for her bold makeup choices. Her Instagram is packed with artfully shot photos of her gorgeous beauty looks. But her candid, make-up free posts also generate headlines.
Doja Cat isn't afraid of being herself
Doja Cat doesn't take herself seriously, and HotNewHipHop argues that that's one of the biggest reasons why fans feel so connected to her. She shows off her fun, down-to-earth personality on Instagram on a daily basis. In a February 19, 2021 Instagram post, Doja Cat paired a fresh-faced selfie with a hilarious caption, writing "my face when i'm looking at instagram comments". Fans celebrated her make-up free look in her comments section and thanked her for being real.
That's not the only time she broke the internet by going make-up free. In December 2021, she reposted a picture of herself in Pikachu lingerie, and rocked her natural hair. In true Doja Cat fashion, she simply captioned the post "PikACHOO" and didn't call attention to her bare face and natural curls. The Things speculated whether her decision to go make-up free was a way to indirectly promote her beauty collaboration with BH Cosmetics. But We Got This Discovered pointed out that Doja Cat has always used her platform to be genuine with her fans, through beauty tutorials (which start off sans makeup) and even funny staring contests.