Here's How To Elevate A Sweatsuit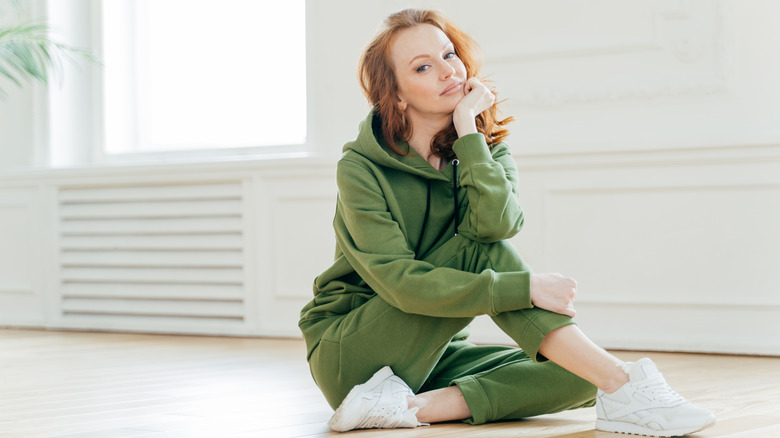 VK Studio/Shutterstock
Many of us are all about comfort these days, especially as the words "lockdown" and "quarantine" have become part of our daily vocabulary. And perhaps the only thing easier to throw on than a pair of stretchy yoga pants or an ultra-soft tee is a sweatsuit. According to Vice, the sweatsuit was first invented in the 1930s to keep our bodies warm after physical activity. (Granted, plenty of us are now wearing sweatsuits to stay warm from a lack of physical activity!) That said, the sweatsuit isn't known for being chic, so anyone wanting to wear one out and about might want to do a little more to elevate the overall look of the outfit. Comfort is key, but we still love fashion!
Turns out, there are plenty of easy ways to look put together while wearing a sweatsuit (just in case we get caught running into our new boss or high school ex). One of the easiest ways to make the outfit look more luxe than lazy is to pick a top and bottom in the same color. Per The Zoe Report, monochrome tends to make items look purposefully selected, rather than lazy. Maybe this is why Kim Kardashian spent so much time in monochromatic looks?
When it comes to the sweatsuit, consider your accessories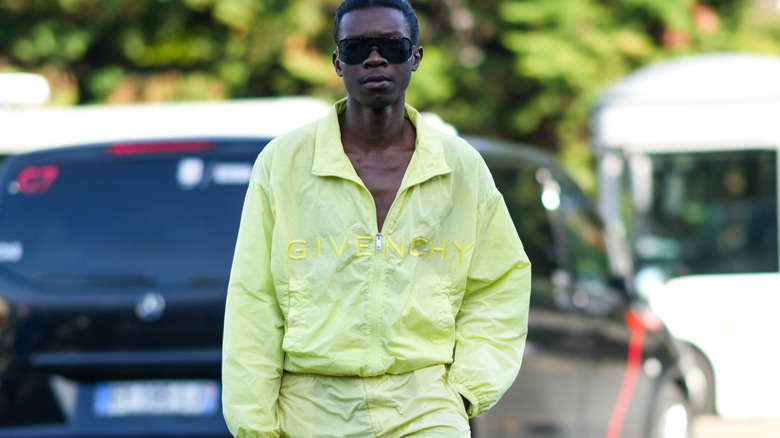 Edward Berthelot/Getty Images
Now that we've got the monochrome part under control, it's helpful to consider what else we're wearing. As The Zoe Report recommends, incorporating statement and structural pieces — like knee-high leather boots or an oversized blazer — will help elevate your whole look. You can also switch up your overall vibe by choosing the right shoes. Instead of pretending you came straight from the gym by pairing your sweatsuit with something predictable, like sneakers, try throwing on a pair of heels or bedazzled flats, per Le Fashion.
Let's also talk about hair. A messy bun might work for when you're cleaning around the house or relaxing on the couch, but you can also elevate the bun with minimal effort. To nail the perfect messy-but-not-too-messy hairdo, Ipsy recommends you begin by brushing your hair into a sleek, high ponytail. Next, twist around the tail into a bun and secure neatly with bobby pins that are a similar color to your hair. Comfort may be key when it comes to the sweatsuit, but there's no reason why you can't make a few simple tweaks to elevate your look and venture beyond your gym or sofa.