Did The Palace Really Feel This Way About Meghan And Harry's Christmas Card?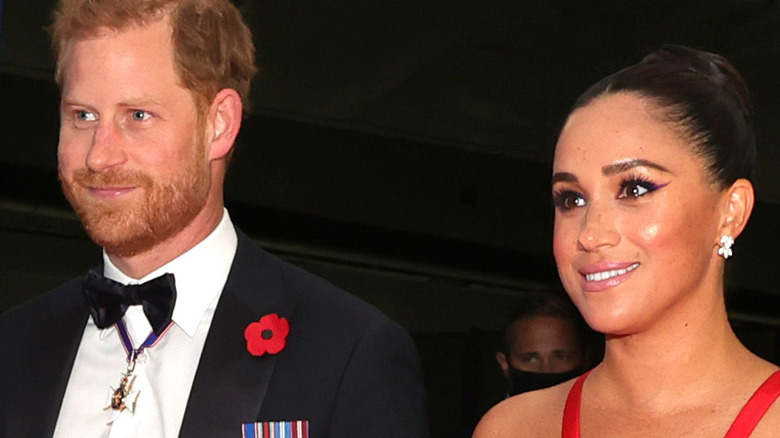 Dia Dipasupil/Getty Images
The world finally got a glimpse of baby Lilibet Diana when Prince Harry and Meghan Markle released their family Christmas card on December 23. The photo features Meghan holding her baby girl in the air as mother and daughter smile in delight at one another. Harry is by her side looking at the baby, while young Archie sits between his father's knees, also looking at his mother and sister (via Town and Country).
This photo on the card was in stark contrast to the one released by Harry's brother, Prince William, and William's wife, Kate Middleton. The Cambridges' photo is beautiful and posed with everyone looking at the camera (via People) while the Sussexes' card is more casual and candid. The greeting on Harry's and Meghan's card reads "Happy Holidays. This year, 2021, we welcomed our daughter, Lilibet, to the world. Archie made us a 'Mama' and a 'Papa,' and Lili made us a family." And it is the greeting that has the royal family they left behind back in England perplexed.
The royals do not believe Meghan's and Harry's Christmas card was proper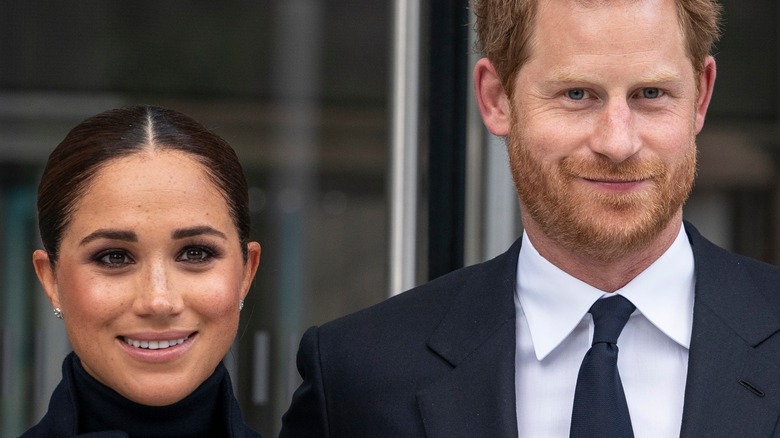 lev radin/Shutterstock
In 2020, Prince Harry and Meghan Markle chose to leave their royal life behind for life in Southern California, and, according to Harper's Bazaar, Harry has only been back across the pond twice since then — and left his wife and children behind both times, with his family yet to meet his daughter. However, the first public photo of Lilibet on Harry's and Meghan's Christmas card doesn't sit well with the royal family, nor does the card's message.
Royal expert Neil Sean told Express that senior members of the royal family were somewhat taken aback by the card. "According to those good sources, they were rather confused and let me explain the reasons why," Sean said. "As we all know Prince Harry was born a British Prince and there's nothing more sacred to our gracious Majesty the Queen than her Christian faith and this particular time of year, she holds it with great affection. In fact, it was one of the most favorite times of the year for Her Majesty and the late Duke of Edinburgh so you can imagine I'm suspecting her dismay at the Christmas greeting which was on the cards now."
And it was the greeting, "Happy Holidays," that caused the most confusion for the royals, with Sean adding, "I'm told this phrase Happy Holidays is very much a Californian slang."
As Americans know, the phrase is not exclusive to California, but it is something many Americans do take umbrage with.