What You Didn't Know About John Madden's Wife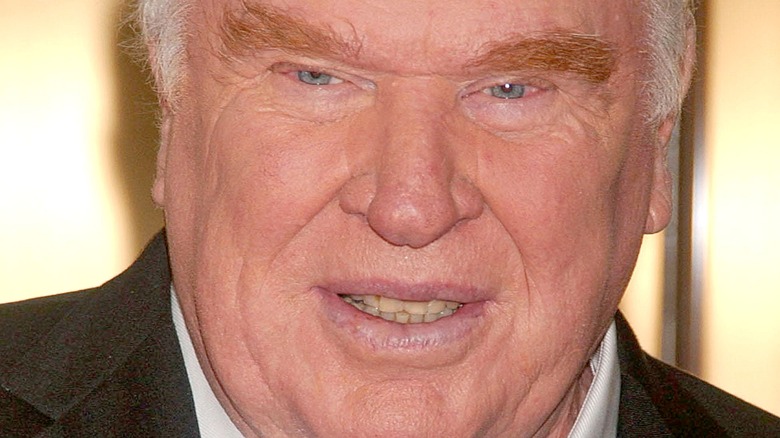 Everett Collection/Shutterstock
John Madden was a huge name in the National Football League (via ESPN). Once a coach for the Oakland (now Las Vegas) Raiders, Madden's accomplishments landed him in the NFL Hall of Fame. After leading the Raiders to success, he handed over his coaching duties for a commentator's microphone. There, he would earn an unprecedented 16 Emmy Awards and called 11 Super Bowl games. He was a legend.
Sadly, Madden passed away suddenly at the age of 85 on December 28, 2021. He is remembered fondly by colleagues, with Raider's owner Mark Davis stating, "Tonight I light the torch in honor of and tribute to John Madden and Al Davis, who declared that the fire that burns the brightest in the Raiders Organization is the will to win" (via ESPN).
While many fans of the NFL knew a lot about the legendary coach turned award-winning broadcaster, they are unaware of what went on in his personal life, including his marriage to Virginia Fields (via ILuminaryworth). The pair had a long-lasting relationship.
Madden was married to the same woman for over 60 years
Fields and Madden had the type of romance you read about in story books. The couple had been married for an impressive 62 years when the football legend sadly passed away this month (via The US Sun). The pair met at a bar in Pismo Beach, California, before they tied the knot at a church in Santa Maria in 1959.
What many do not know about Fields is that she kept the Madden household together (via MEAWW). While her husband was working hard and winning a Super Bowl title and Emmys, Madden's wife held down the fort and helped him raise two successful boys, Joseph and Michael.
However, while many may assume that she spent much of her time at home, it turns out that before the couple settled down and had children, Fields ran a bar in Dublin, California all on her own (via The Press Democrat).
Fields is a woman who does it all — from helping raise children to running a bar — she is a superwoman! No matter how hard they each worked, they put effort into creating a long, loving, and successful marriage that lasted until Madden passed away.