Here's Where You Can Find Christina Aguilera's Iconic Red Lipstick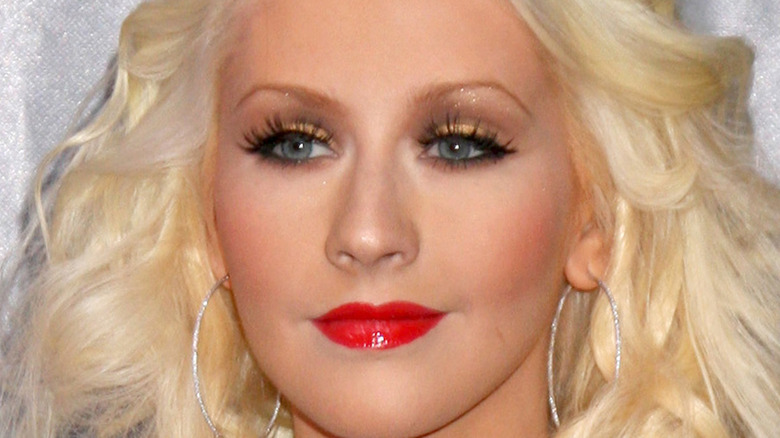 Kathy Hutchins/Shutterstock
Christina Aguilera's most dramatic transformations throughout her career have typically all had one thing in common: her iconic red lipstick. Aguilera's music career has spanned over 2 decades. Her self-titled debut album was released in 1999, and her discography includes, at present, 8 studio albums (via Discogs). Alongside her music, Aguilera became quickly known for her fashion and her looks in general. Red lipstick became a signature for her, no matter the style she sported, helping to create her brand and identity.
Aguilera's makeup and looks are always on point, despite making some questionable fashion choices at times. Even when she made a faux pas, however, her red lipstick always remained undoubtedly her. According to Glamour, Aguilera has occasionally ditched the iconic red look for a hot pink lip, but she's always returned to red. In fact, over the course of her career, red has continued to dictate her fashion in larger ways. Recently, she has donned red hair and red outfits, including in her music video for "Pa Mis Muchachas," which also features Becky G, Nathy Peluso, and Nicki Nicole (via InStyle).
As Aguilera's red lipstick goes down in the industry's history as one of the most iconic signature looks, many are wondering where they can get her lipstick.
Christina Aguilera's favorite lipstick isn't expensive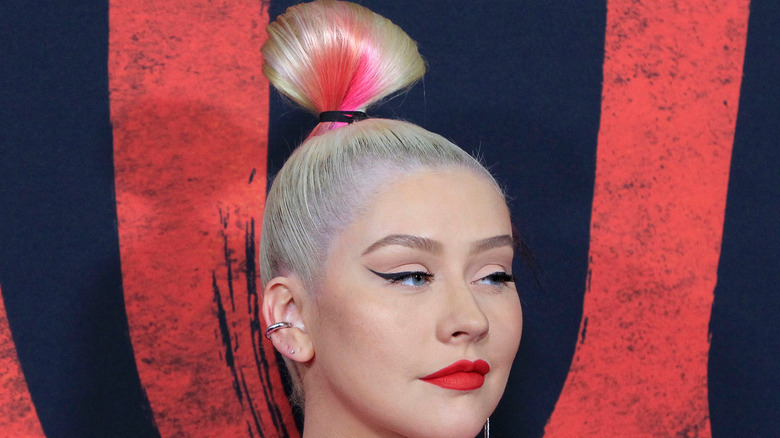 Kathy Hutchins/Shutterstock
Christina Aguilera looks unrecognizable without makeup, and this is, in part, thanks to how iconic her red lipstick look has become. It's now synonymous with her as both a person and an artist, and many want to know how they can wear the same lipstick. Luckily, Marie Claire got to the bottom of this in 2010.
When asked which lipstick she uses for her signature look, Aguilera answered, "For the most part, my signature shade is from LipSense, but sometimes I layer a couple of MAC lipsticks. I love color — I'm not a beige kind of girl. Even in my home, accents of red show up in every room. Red lips and fragrance always top off an outfit for me."
According to Southern Beauty, Aguilera particularly loves the LipSense shade Blu-Red. It's a bright cherry red that's glossy and smooth, yet bright and pronounced. This lipstick retails for $25 from Swak Beauty, so while it's not the cheapest option on the market, it's not the priciest, either. It's a perfect middle-ground for true Aguilera fans. Aguilera didn't clarify her favorite MAC lipsticks, though, which may be because she layers several on her lips.
"Red lips are my must have," she said. "Red makes you feel instantly sexy and radiant. It's a confidence boost." Now, you, too, can embody the sexiness of the color red alongside one of the biggest pop stars in the world.