Has Melania Trump Revealed What's In Store For Her Future?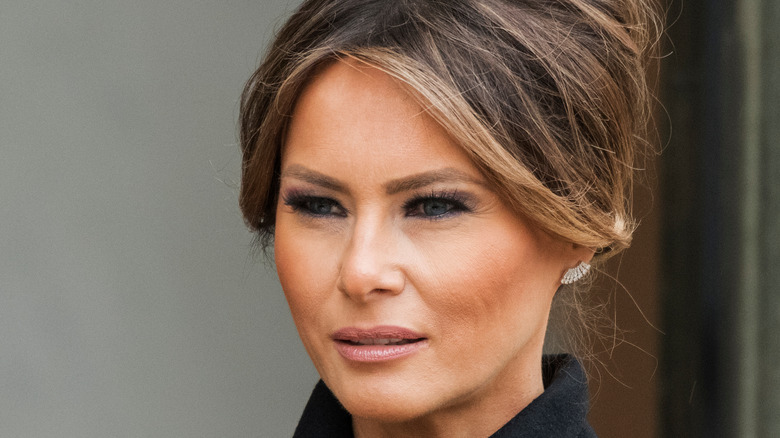 Frederic Legrand - COMEO/Shutterstock
Since leaving the White House in January 2021, Melania Trump has mostly stayed out of the public eye. Even while serving as the first lady, Melania Trump was notoriously silent and private. In her former role, Melania remained largely in former President Donald Trump's controversial shadow. According to South China Morning Post (SCMP), Melania only went on one solo international trip. She also promoted her Be Best campaign, although it failed to have any influence on policy.
Since leaving the White House, Melania has mostly remained out of the spotlight, preferring to spend her days at the spa and nights out at dinner with her husband at Mar-a-Lago, CNN reported. "She goes to the spa, has lunch, goes to the spa (again) and has dinner with Donald on the patio ... Rinse and repeat. Every day," one source revealed.
Though sources have revealed that Melania will support her husband if he decides to run for the presidency again in 2024, another source told Politico that Melania's alleged distaste for politics could make it difficult for the former president to run again. "The only thing that Trump cares about these days is golf and Melania," a source close to Melania told Politico. "And if she doesn't want him to run, then it's going to be pushing a big rock up the hill. I don't think politics is her thing. She doesn't like the game."
Melania returns with a new charity initiative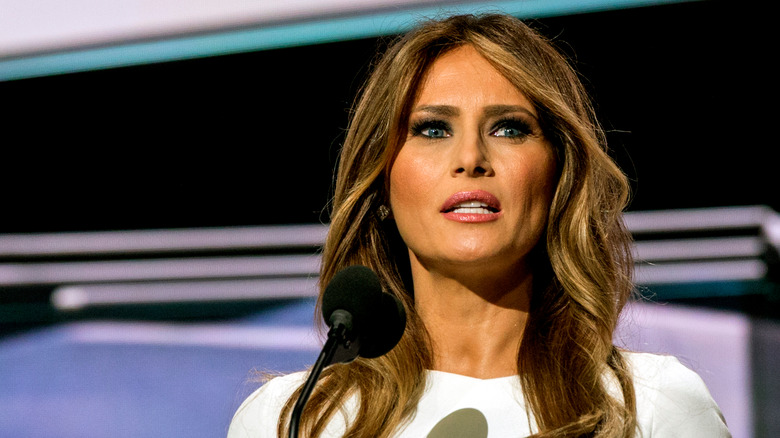 mark reinstein/Shutterstock
Only tweeting sporadically since leaving the White House, Melania Trump made her first public remarks while accepting an award from the Log Cabin Republicans at Mar-a-Lago in November, per CNN. After accepting that award, Melania has been more present on her social media channels and appeared to be gearing up for the announcement of her latest public venture. According to ABC News, Melania recently announced that she would be launching a venture to sell NFTs, or nonfungible tokens, in exchange for a Solan token, which is currently worth approximately $180. Melania also revealed that she would be selling a digital watercolor painting of her icy blue eyes that can only be purchased using a Solan token. An unknown portion of the proceeds from the sale of Melania's digital portrait will benefit foster children.
Earlier this week, CNN reported that Melania will be releasing a second NFT art piece to purchase on the former first lady's website on January 4. Despite the fact that Melania claims that she is continuing to promote her Be Best campaign that first began during her tenure in the White House, a former White House official that this latest venture may just be Melania's way of looking busy and getting quick cash investments for future Trump family plans. "This is not exactly using her platform for larger global or domestic impact," the source told CNN. "This is ostensibly a quick moneymaker. It's a classic Trump move, using their brand and their supporters to cash in."