Making Chai At Home Is Easier Than You Think
SoniaVadlamani/Shutterstock
We may receive a commission on purchases made from links.
When you drink chai every day, you can get used to quickly grabbing it from Starbucks or another coffee shop, but it's actually easier to make than you may think. In fact, it's easy to make chai lattes like Starbucks', but it's also just as easy to make your afternoon cup of tea your own with your choice of tea, spices, and milk. A cuppa has never tasted better.
According to Teatulia, chai was first prepared over 5,000 years ago. It originated when a king in the area that is known as India in modern day ordered his servants to bring him a spiced drink with medicinal properties. Thus the earliest form of chai was born. Then and now, chai was/is composed of four main components: tea, milk, spices, and a sweetener. Corporations like Starbucks use chai concentrates to quickly prepare chai beverages when ordered. These contain the condensed tea, sugar, and spices, so that only milk is required when ordered (via Oh, How Civilized).
These concentrates are sold in stores, so you could easily prepare your own chai at home by mixing one with milk — the typical ratio for store-bought concentrates such as Tazo's is 1:1 parts of concentrate to milk — and serve it warm or over ice. However, making homemade chai is just as quick and easy, and its flavor palette can prove richer.
From 20 to 5 minutes, these recipes will make chai in no time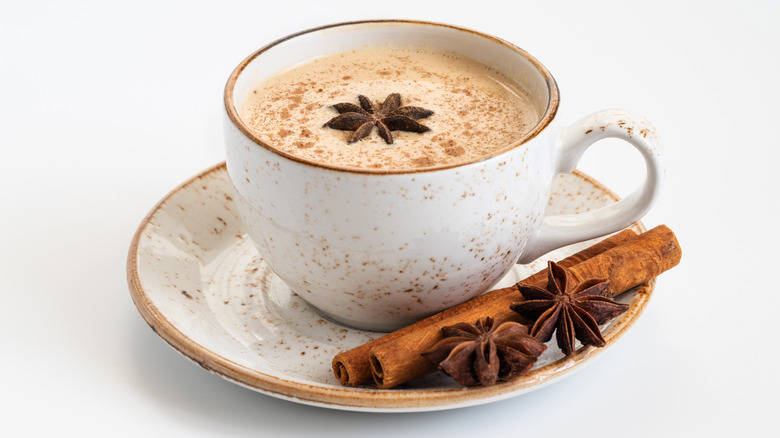 miss.lemon/Shutterstock
Making chai at home isn't as daunting as you may think. It's also more customizable, so you can add any kind of milk you want — soy and oat milks may elevate its flavor even more — and experiment with different spice blends. One favorite health staple, star anise, is a classic chai spice and should always be included, but what you add to it is up to you.
Chai recipes can take upwards of 20 minutes, but most of this time is idle steeping time. Therefore, it's something you can make while getting ready in the morning or generally when you can just set it and forget it. Real Simple's recipe, for example, involves 10 minutes of steeping. The only steps you have to carry out are activating your whole spices by lightly crushing them and then combining the spices, black tea bags, and milk to boil and steep. Sugar in this recipe is added to each cup, so everyone can sweeten to their desired tastes — an added bonus.
Other recipes are even quicker. Detoxinista recommends using ground spices for a quicker flavor introduction. This requires less steeping, as only the tea bags must steep in this case. For gratification in just five minutes, steep the black tea in hot milk and then add the ground spices and maple syrup (or the sweetener of your choice). Then you've got a hot mug of chai!
Ultimately, chai can be made in several ways. Not all methods are as authentic as using loose leaf tea and whole spices, but if you need a quick fix, these methods serve that purpose well.