You're Not Applying Concealer Correctly If You Miss These Spots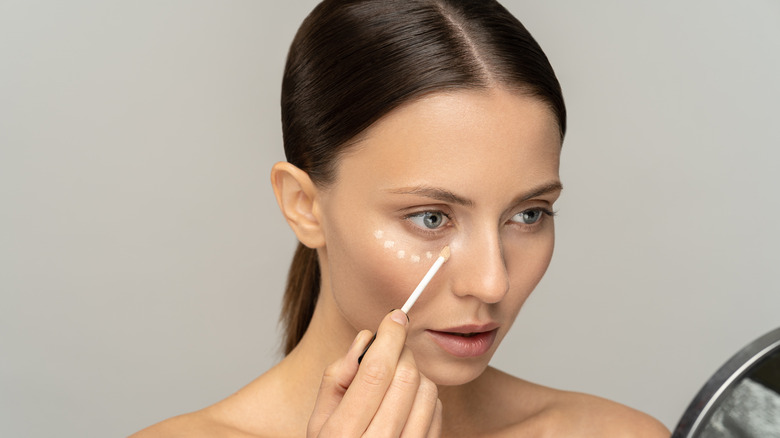 DimaBerlin/Shutterstock
Many beauty editors actually choose concealer and skip foundation because concealer can do so much for your face, according to Byrdie. In fact, concealer is a godsend because, when used correctly, it can brighten your complexion, cover blemishes, and conceal dark circles under your eyes. Concealer tricks can also make your eyes look larger and more awake, according to Mind Body Green.
Now, thanks to this viral video by beauty influencer Ava Lee of Glow with Ava on TikTok, you can actually use concealer to give yourself a "lifted" appearance as well. In the TikTok tutorial, it is mesmerizing to watch Lee carve her face with concealer and dramatically change how it looks. The difference it makes is impressive, and it's all because of the strategic placement of concealer. 
If you have only been using concealer to hide blemishes and dark under-eyes, you need to try this easy six-point concealer trick to lift and sculpt your face in seconds. First, let us share some of Lee's favorite concealers that she uses to create that look (via Shoplist). Lee is a fan of the NARS Radiant Creamy Concealer ($30), KOSAS Revealer Super Creamy & Brightening Concealer ($28), and YVES SAINT LAURENT Touche Éclat All-Over Brightening Concealer Pen ($38), which are all available at Sephora.
How to do the "six-point concealer trick" from TikTok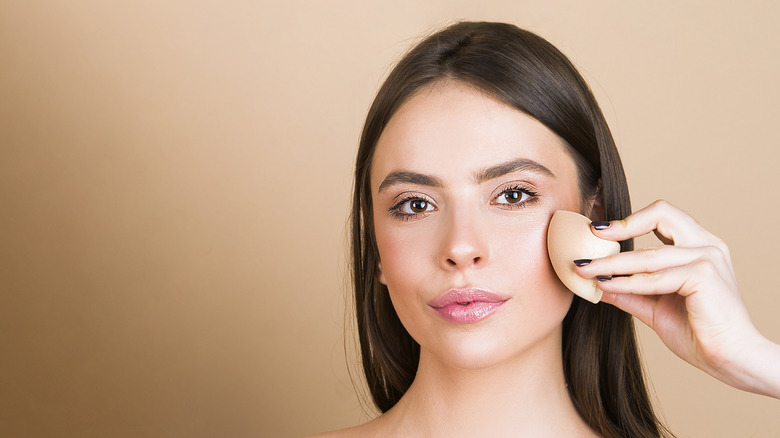 Puppy 9/Shutterstock
Now that you have your concealer ready, let's get started. For precise application, choose a concealer with a doe-foot applicator so the end result looks like you outlined the perimeters of your cheekbones (via Mind Body Green). Let's break down each step that Ava Lee does in her TikTok video. 
First, sweep the concealer on the inner corner of your eye with a downward slant towards the cheek. Second, apply it on the outer corner of your eye slanted upwards toward your brows. The third spot is the side of your nostril with a downward slant towards the corner of your mouth, and step four starts at the corner of your mouth and goes towards your cheekbones. 
After that's done, swipe the concealer along the hollow of your cheeks with an upward motion. And the last placement is a tiny dab under the eye. Lee then uses a beauty sponge to blend the concealer and voila! Lee compared the lifted look versus the concealer-free side of her face to show the stunning difference. It's incredible to see how the placement of creamy concealer on the six spots can give an extra dimension to your face. 
This trick is so easy and flattering that it is all the rage on TikTok to create a snatched look. Go ahead, grab your favorite creamy concealer, and give this trick a shot. We guarantee you will love it.