Inside Toby Keith's Relationship With Daughter Krystal Keith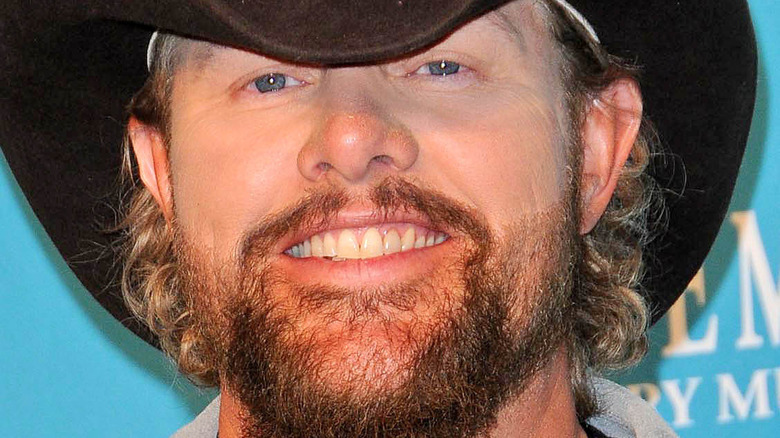 S_Bukley/Shutterstock
Along with being a country legend, Toby Keith is also a happy family man. He has three children and by all accounts is close with each. Case in point, Toby Keith's relationship with daughter Krystal Keith has remained strong even through his busy lifestyle. He inspired his daughter to follow his lead and pursue a career in country music, as well as go on to build a family of her own. 
Krystal, whose legal name is Krystal Covel Sandubrae, has built a pretty impressive country music career of her own. Back in 2004, she sang with her father in a cover of Inez and Charlie Foxx's "Mockingbird," proving to the world that she could hold her own on stage (via Country Fancast). And after graduating from the University of Oklahoma in 2013, she signed on with Show Dog-Universal Music and released four songs — including her very first single "Daddy Dance With Me." In a sweet tribute to her father, Krystal sang the single on her wedding day.
As if the dedication to her dad on her special day wasn't evidence enough of Krystal and Toby's strong bond, she spoke on FOX News Radio's Children of Song podcast about growing up with Keith. "I think it speaks volumes that the way I kind of remember childhood is I don't really remember him being gone," she said. "When he was home, he was so present that I don't remember the spans of him being gone."
Krystal Keith follows in her dad's footsteps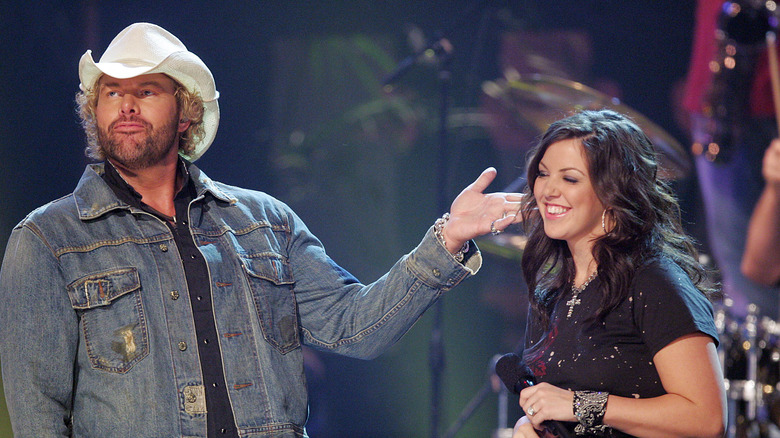 Frank Micelotta/Getty Images
After Krystal Keith expressed an interest in singing, her dad Toby Keith suggested that she get through college first — and she did. "He didn't want the industry to beat me up on being young and inexperienced," she told Children of Song. "His example was LeAnn Rimes. When she came out, she was so young and had this big huge voice that was amazing ...  but then as she grew up people still saw her as a kid."
Before finding her footing in country music, Krystal married in 2010, per The Oklahoman. She and husband Drew Sandubrae share two children — Hensley Jack Sandubrae who was born in October of 2015 and Kirby Kaye Sandubrae who made her arrival in 2019. "When you thought you had loved as big as you ever could. And then in a single moment, the size of that love doubles," she wrote in a touching Instagram post after Kirby's birth. "We are happy and healthy. Hensley Jack is the best big sister and Drew is way outnumbered with a house full of girls and wouldn't change a thing."
With both parenthood and country music in common, it is little surprise that Toby and Krystal Keith have a strong relationship. His commitment to being present in her life even while on the road surely taught her a thing or two about balancing work and family life.