The Affordable TikTok-Viral Hair Product That Styles And Dries At Once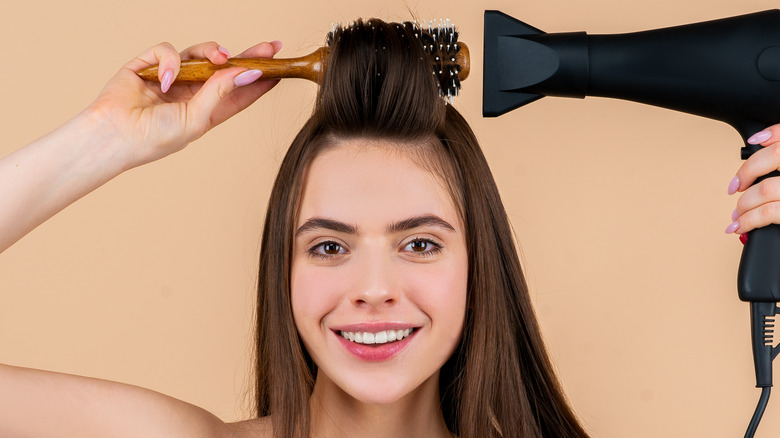 Puppy 9/Shutterstock
TikTok is the addictive app you can easily find yourself scrolling through to the point of losing track of time. Everyone turns to TikTok for something different. The aptly named "For You Page" really does just that, taps into your psyche in a way that we should probably question but instead appreciate. With endless corners of the app from witch TikTok to couch guy TikTok, there's no shortage of insanely niche interests to tap into (via Vox).
Laughs and tears aside, one thing manages to always sneak its way into everyone's TikTok — and that's product recommendations. Whether you're cooking obsessed and have scrolled through about 50 videos about the Our Place Always Pan or any other interest, you're guaranteed to have come across product review videos that have led to some ill-conceived 2am Amazon orders (via Buzzfeed). An area that definitely takes it to a whole new level is beauty TikTok. It can feel like there's a new raved about mascara every week, but only a lucky few brands manage to make it to viral TikTok beauty status. If you're big on hair styling, this viral product has had its own cult following long before TikTok — and here's why you need it.
This One Step hair dryer and styler does exactly what its name promises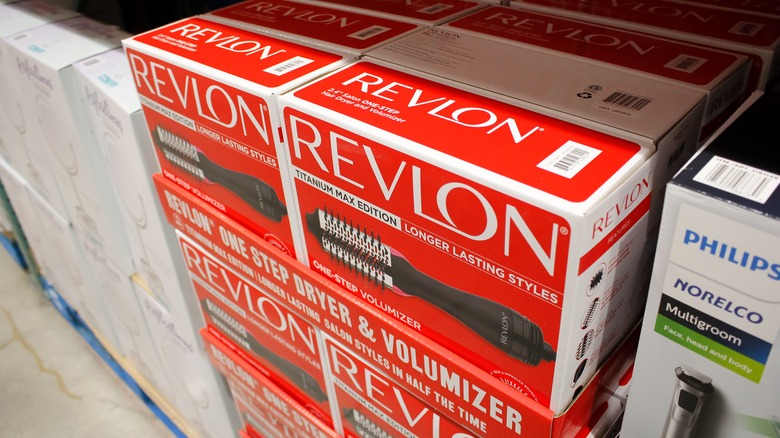 TonelsonProductions/Shutterstock
If you're a beauty or haircare addict, you're likely to have already guessed the product as you read this. This simple black and pink tool has been featured on countless YouTube videos long before TikTok even existed, and no we aren't talking Dyson — think a fraction of the price. Revlon's One Step Hair Dryer & Styler may just be one of the most popular hair styling tools on the market. Sure, countless brands like Dyson and Drybar have their very own holy grail styling tools, but Revlon hacked the market by introducing a crazy-affordable version of the products that fans claim works just as well. And their latest upgrade to the classic has officially gone even more viral than her predecessor (via StyleCaster).
The new edition features some upgrades such as the ceramic-titanium tourmaline technology that can protect your hair to avoid excessive heat damage, and it also now comes with more heat settings (via Popsugar). Reviewers claim the new features make a huge difference and that the already-iconic hair dryer brush's twin sister can give you even sleeker and smoother results (via The Zoe Report). It has garnered countless glowing reviews for how quickly and efficiently it dries your hair while giving you a fresh salon-level blowout result (via Teen Vogue). This viral product definitely lives up to its hype.