Are These TikTok-Viral Body Scrubs Worth The Hype?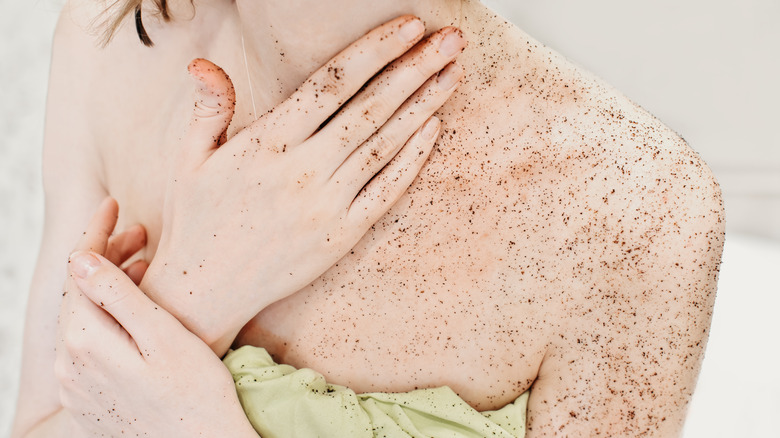 Yulia.Panova/Shutterstock
The beauty community does not mess around when it comes to recommendations. From trendy gadgets to the best makeup collabs, there's nothing that beauty lovers won't talk about. 
Usually, it's a blessing for those with an interest in beauty — but a curse to their wallets. So, when an effective and super-affordable body scrub from Frank Body popped up on TikTok, it only makes sense that people were intrigued (via PopSugar).
Frank Body's Coffee Scrub has been everywhere on social media. The brand says that the product is "100% natural, vegan, and ready to work my magic on breakouts, scars, cellulite, and stretch marks" with a blend of coffee, vitamin E, and antioxidant-rich oils. It promises to leave skin looking perky, even, and smooth. 
The packaging is trendy; the application is quick; and, let's be honest, the products look really fun to use. Frank Body event offers a rose gold shimmer version of its traditional coffee scrub. Yes, you read that correctly: You can rub rose gold shimmer all over yourself in the shower in the name of skincare. 
Still, you might be wondering if the viral TikTok product is worth the buy. Here's everything you need to know about Frank Body's Coffee Scrub so you can decide for yourself. 
This $20 beauty product is simple but genius
Frank Body is a simple but genius idea: Turn coffee grounds into an exfoliator. The little pink bags, which you've likely seen all over TikTok and cost $20, are just that. 
The brand came on to the beauty scene in 2013 when five friends were sitting around having coffee and decided that the grounds would make for a great exfoliator (via The Fashion Institute).
Since then, the brand has gone viral and expanded its product line while staying true to its exfoliating roots. There's everything from lips scrubs to moisturizers, all of which have incredible ratings.
In fact, Frank Body's Original Body Scrub has almost 5,000 reviews on the website and a rating of 4.8 stars out of 5. Customers say that, while they weren't sure about buying a product that's all over social media, it was well worth the money. 
"Skeptical at first as I don't like Insta influencers, I usually refuse to buy the product because of them. However my niece told me all about it and said I should try it ... and she was right it was AMAZING," one reviewer said, per the Frank Body website.
Not sold yet? Just wait until you hear how easy the scrub is to use.
The Frank Body coffee scrub is really easy to use
One of the most appealing things about Frank Body's coffee scrubs is how easy they are to use. Anyone looking to amp up their beauty routine knows that the worst part of adding new products is the time it takes.
Thankfully, Frank Body's scrubs aren't a hassle at all. You set the little coffee scrub bags in the shower, take a handful during your next wash, and rub it all over your body in tiny circles (via Bustle). Then, just rinse off — and you're on your way to smoother skin. 
As if the instructions weren't easy enough, you're going to love how simple it is to add this into your shower routine. According to an Instagram post from the brand, you only need to use the product two to three times a week to see results.
Don't just take our word for it, though. "I have been using this scrub since 2014 (back when packets were paper and not waterproof) and it really is the OG of coffee body scrubs," said one reviewer, per the Frank Body website. "Great scrub and smooth silky skin. I've tried many others and this is still the best."
Consider us convinced!