Here's What Happened At Betty White's Final Live Appearance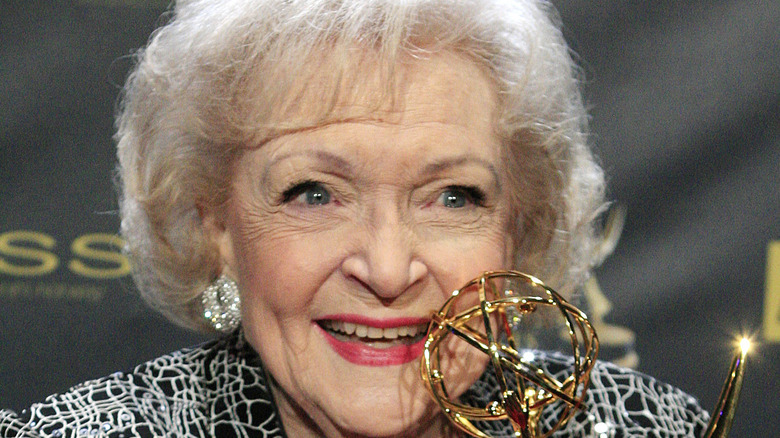 Joe Seer/Shutterstock
The world lost an icon today as Betty White has died at the age of 99 on December 31, 2021, according to TMZ. The actress and comedian was just a few weeks away from her 100th birthday on January 17, 2022, which was expected to be a big celebration. White even posted about her big milestone on her Instagram, with an image of her People Magazine cover and a caption that read, "My 100th birthday ... I cannot believe it is coming up, and People Magazine is celebrating with me!"
The news of the "Golden Girls" star's death was confirmed by her agent, Jeff Witjas, who told People, "Even though Betty was about to be 100, I thought she would live forever." Recently, White even spoke to People and said that she was "so lucky to be in such good health and feel so good at [her] age." The actress even seemed to be in good health and not battling any ailment, so her cause of death is suspected to be due to natural causes. 
Betty White's last appearance was at the 2018 Emmy Awards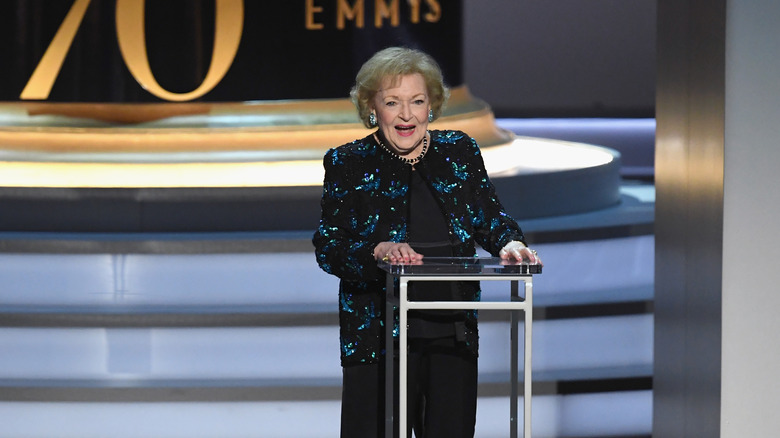 Kevin Winter/Getty Images
Since the start of the COVID-19 pandemic, Betty White had been keeping herself safe at home. It was reported by CNN back in 2020 that "no one [was] allowed inside her home except those helping her," according to a representative for White. Other than her recent People interview for her 100th birthday, the actress hadn't made many public appearances in recent years either. According to Heavy, Betty White's final live appearance was at the 70th Emmy Awards in 2018, where she was honored for her decades-long career in show business (via CNN). 
White even received a standing ovation and admiration on Twitter, according to USA Today. The actress even joked after the applause started to die down that she was "just gonna quit while [she was] ahead," and turned as if she was going to leave the stage (via YouTube). The joke showed how quick-witted and hilarious the star was even at 96. She even continued in her speech that, "It's incredible that I'm still in this business." Seeing all the love White received back in 2018 and even now in 2021, it's very evident that she was and will always be a one-of-a-kind beloved star.