The Pixar Movie You Never Knew Betty White Was In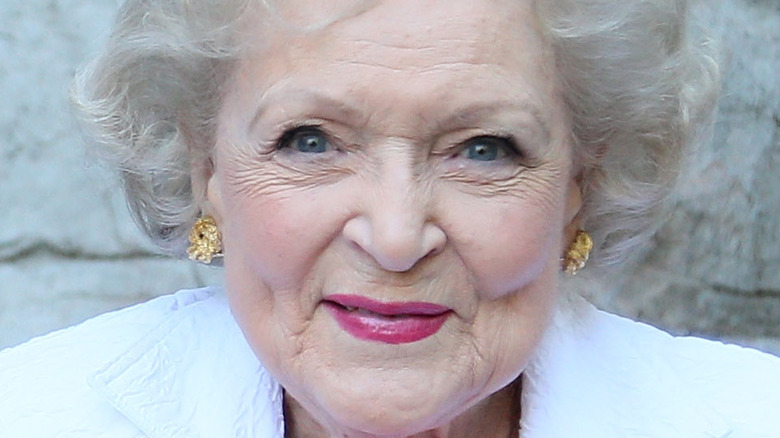 David Livingston/Getty Images
The New Year's Eve champagne will taste bitter tonight, thanks to the flood of tears being shed over Betty White. The legendary actress and comedian died in her home on the morning of December 31, 2021, less than three weeks before her 100th birthday (via TMZ). Best known for her roles in "The Mary Tyler Moore Show" and "The Golden Girls," she was the last surviving cast member of both sitcoms. (Her castmates Cloris Leachman and Ed Asner of "MTM" died earlier this year.)
White had a long and fruitful career that began with radio jobs in the 1940s and extended to roles as recent as "Hot in Cleveland" from 2010 to 2015, and a Snickers ad that showed her getting tackled into the mud during a friends' game of football (via Outsider). She was a regular on game shows such as "Password" (the host was her husband, Allen Ludden), "To Tell the Truth," and "Match Game," as well as a popular guest on talk and variety shows. In 2010, she became the oldest person to host "Saturday Night Live" (via History). In a memorial tweet, Seth Meyers recalled that she was "the only SNL host I ever saw get a standing ovation at the afterparty. A party at which she ordered a vodka and a hotdog and stayed till the bitter end."
However, not many people may realize that some of White's performances were ones in which she didn't actually appear in person. Like many actors, she lent her voice to a number of movies and TV shows. You've probably heard her voice without even realizing it.
Betty White appeared in a cartoon role created just for her
Not letting age slow her down, Betty White took on a number of voice acting projects over the years, often cast as older women with attitude. Among the roles she played were Mrs. Claus in "Prep & Landing," Beatrice in "SpongeBob SquarePants," Yoshie in "Ponyo," and Grammy Norma in "The Lorax" (via Behind the Voice Actors). One of her funniest cartoon moments was as herself in "The Simpsons," (here on YouTube) hosting the PBS telethon. When Homer pledges $10,000 to the station, White joins Mr. Rogers, the Teletubbies, Big Bird, and other public TV stars as they chase him down to collect. 
In 2019, White took a cameo role in Disney/Pixar's "Toy Story 4," playing one of a collection of toddler toys once beloved by Bonnie, the new owner of Woody, Buzz, and friends. She played a tiger teething toy named — what else? — Bitey White. In a clever inside joke, the other toys are played by fellow classic comedians: Mel Brooks as Melephant Brooks, Carol Burnett as Chairol Burnett, and the late Carl Reiner as Carl Reineroceros (via IMDb). 
White's final voice role was a reprise of Bitey White in one segment of the "Forky Asks a Question" series on Disney+. There, she and her closet friends try to explain the concept of love to Bonnie's sweet but confused homemade toy. It would also be her final acting appearance. Appropriately enough, Betty White ended her career leaving her audience smiling.