Is Betty White's 100th Birthday Party Still Going To Happen?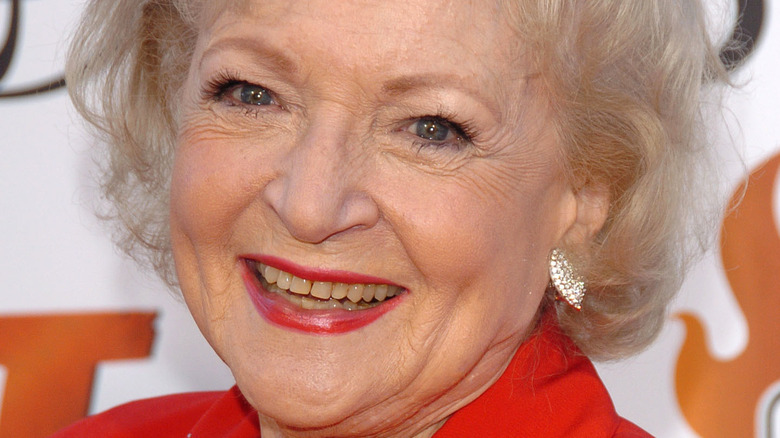 s_bukley/Shutterstock
On January 17, Betty White would have celebrated her 100th birthday. To mark this amazing event, there were plans to play a special film, "Betty White: 100 Years Young – A Birthday Celebration" in honor of the legendary actress. Sadly, White died in her sleep on December 31, 2021 (via People).
"Our hearts mourn today with the passing of Betty White," the film's producers Steve Boettcher and Mike Trinklein told The New York Post. "During the many years we worked with her, we developed a great love and admiration for Betty as a person, and as an accomplished entertainer. We are thankful for the many decades of delight she brought to everyone." They continued, "Betty always said she was the 'luckiest broad on two feet' to have had a career as long as she did. And honestly, we were the lucky ones to have had her for so long."
White has put smiles on generations of faces, whether she was appearing in timeless sitcoms or a timely Snickers ad. So longtime fans will undoubtedly want to celebrate her life even as they mourn her death. With that in mind, will Betty White's 100th birthday party still go ahead as planned?
Betty White's life will be celebrated with the special tribute film
Everett Collection/Shutterstock
Thankfully, yes. Boettcher and Trinklein told The New York Post that they "will go forward with our plans to show the film on Jan. 17 in hopes our film will provide a way for all who loved her to celebrate her life – and experience what made her such a national treasure." The film itself will take fans on a journey through White's career.  Her roles in "The Golden Girls," "The Mary Tyler Moore Show," "Saturday Night Live," and "The Proposal" are among the stops along that journey.
It will also feature interviews and celebrations from Betty White's closest friends, including Ryan Reynolds, Robert Redford, Clint Eastwood, Morgan Freeman, Craig Ferguson, and many more. White, who was honored with the James Smithson Bicentennial Medal for her "commitment to wildlife and efforts to create a sustainable planet" (via People), will also be remembered for her dedication to animal welfare and conservation.
You can watch – and celebrate – "Betty White: 100 Years Young – A Birthday Celebration" in select theatres on January 17 (via Fathom Events).