Who Attended Donald And Melania's New Year's Eve Party?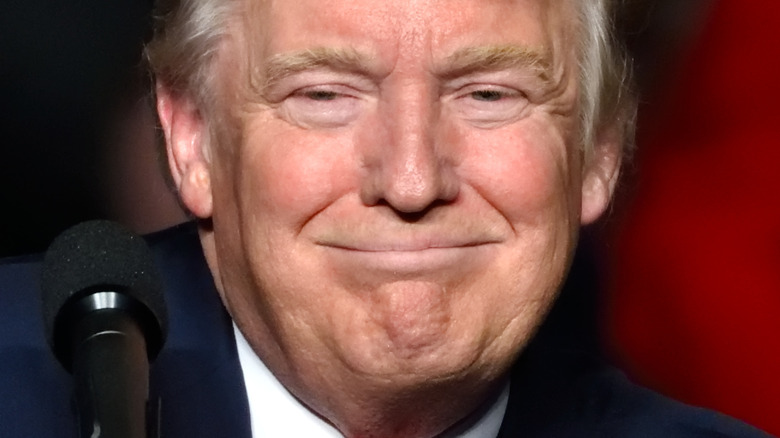 Evan El-Amin/Shutterstock
New Year's Eve 2020 was anything but joyous for Donald Trump. Having just lost his bid for re-election, he was more concerned with trying to overturn the results than with popping champagne corks. Trump went ahead with plans for his annual end-of-the-year party at his Mar-a-Lago club in Florida, but in a sudden change of plans, he and wife Melania flew back to Washington the morning of the bash (via Palm Beach Post). The celebration went on, but guests were undoubtedly disappointed by not being able to mingle with the presidential couple.
The year that followed was one that Trump would probably just as soon forget, as 2020 began with a protest rally that turned into a catastrophe when Trump's supporters stormed the Capitol. This national disgrace was followed by a plunge in his net worth, his ban from Twitter and Facebook, and his record-making second impeachment. Even his attempts to re-enter the political arena met with trouble. His late-year tour with Bill O'Reilly was reportedly less than a sellout, and at one show, the crowd booed Trump when he admitted he had gotten his COVID-19 booster shot (via CNN). It was a surprising development for a man who was used to being adored by his followers.
After such a tumultuous year, the former president might be forgiven for wanting to see it end as quickly as possible. Trump was very much in attendance at the 2021 Mar-a-Lago New Year's Eve party, along with some unexpected guests.
Donald and Melania Trump's guests included his oldest sons and some notable associates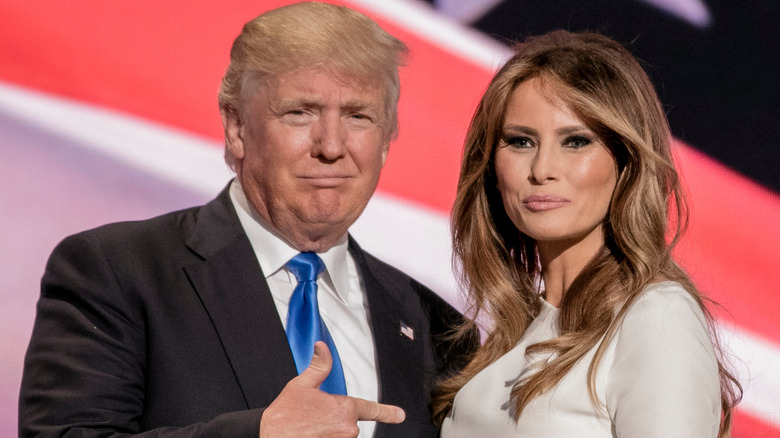 mark reinstein/Shutterstock
Donald Trump has hosted the New Year's Eve party at Mar-a-Lago for years. Like his Thanksgiving, Christmas, and various holiday events, the bash is open to ticket holders only. Prices vary according to buyer — club members pay less than their guests — but the cost still runs anywhere between $650 and $1,000 per ticket, per The Palm Beach Post. 
Daily Mail obtained social media photos of the black-tie party, which show the former president smiling broadly as he accompanied wife Melania into the ballroom, and again seated at his candlelit table. Also in attendance were his sons, Donald Jr. and Eric, who posted photos of the evening to their Instagram accounts. Don Jr. posted a short video that showed his father embracing him briefly. Trump can also be seem exchanging cheek kisses with Don Jr.'s girlfriend, Kimberly Guilfoyle.
Two of the Trumps' guests were supporters who made headlines of their own in 2021. Former NYC mayor Rudy Giuliani, who is now Trump's personal attorney, came under investigation for his dealings with Ukraine, as well as for questionable conduct related to Trump's attempts to overturn the election (per ABC News), while Congressman Matt Gaetz (R-Florida) is under federal scrutiny for alleged sex trafficking of a minor (per MSNBC), but he showed no sign of concern as he posed for photos with the former president.
It goes without saying that neither Trump nor his guests were wearing face masks, despite the national spike in the omicron variant of COVID-19 in recent weeks.