Irene Kim's Strawberry Blonde Look That Fans Envy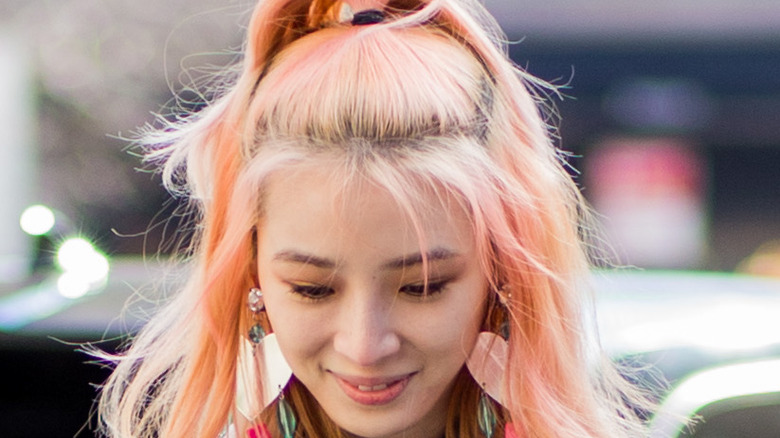 Christian Vierig/Getty Images
American-born Korean model Irene Kim likes to keep her hair pretty precise with a shoulder-grazing cut that has a multitude of colors depending on her mood. We have seen this beautiful model shine in her natural dark hair and take risks with rainbow colors, which needs a refresher every three weeks (via Vogue). In fact, Kim was the inspiration behind all the rainbow strands in South Korea (via Fashionista). She is not one to shy away from taking risks. In fact, if you think of any color, she's probably tried that on her hair (via Fashionista). When Kim walked the red carpet in her rose gold-inspired strawberry blonde, it was only a matter of time until girls started requesting to look like her in salons everywhere.
Hairstylist Sunwoo Kim, who works with the fashion blogger, said that adding a cool tone balances her hair's red tones. He told Allure, "One tone is considered old [school]," because more people are asking for multidimensional tones now for their highlights like the model. If you are thinking of going strawberry blonde like Kim, keep in mind that this color looks best with a light to neutral complexion, and you can add more red and gold to the blonde hair, based on your skin tone (via Byrdie).
How to get rose gold strawberry blonde hair like Irene Kim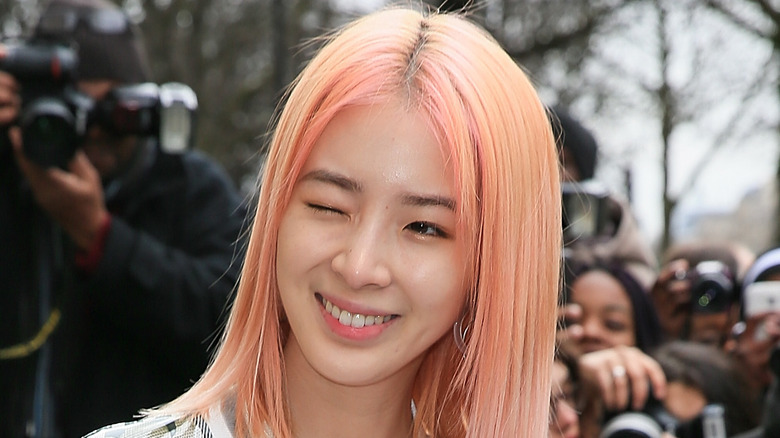 Pierre Suu/Getty Images
If you are thinking of going rose gold, your natural hair color is the first thing to consider. It is always easier to add red tones to blonde hair than darker hair, so you may need to bleach it first (via Marie Claire). The lighter the hair, the more vibrant the rose gold will it appear. Colorist Amelia Trammel told StyleCaster, "The whole process will take around two or three hours, depending on how much hair there is and what the existing color is." Once the hair is light enough, she adds the tinted gloss to deposit the rose gold shade.
If you aren't ready to bleach your entire head for the strawberry blonde hue, you can also try the demi-permanent red gloss. But remember, your base color still needs to be light (via Refinery29). Colorist Adriana Pinto loves doing this color and told Refinery29, "Strawberry blonde is that alluring kind of sexy," and it is possible to create the dreamy color but with a darker tone as well. 
It is essential, though, to take care of this hue. In fact, the color will require touchups every six to eight weeks (via Byrdie). If you want the exact same shade as the owner of the fashion label "IRENEISGOOD," make sure to take a picture with you for a shade match. If you want to follow the advice of hairstylist Sunwoo Kim, "The trick is to choose colors that will actually look better as they fade a little" (via The Klog).