Did Kendall Jenner Just Get Married?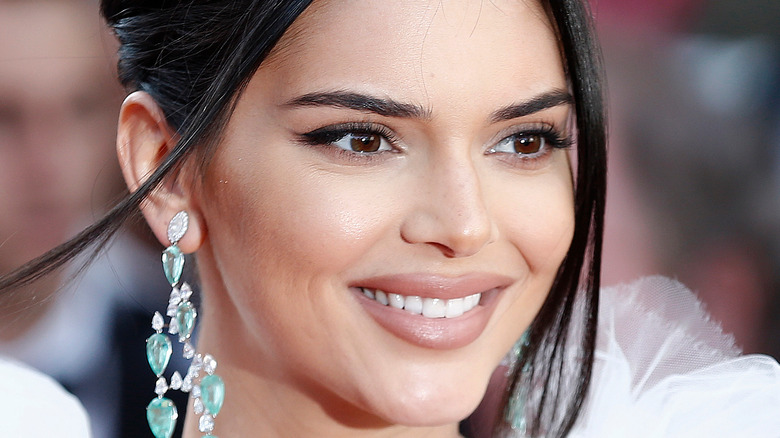 Andrea Raffin/Shutterstock
If there's one thing the Kardashian/Jenners have mastered, it is keeping huge family secrets tucked away until they're good and ready to share it themselves. The devil works hard, but Kris Jenner works harder. Lest we forget how surprised everyone was when Kylie Jenner finally revealed her first pregnancy, the way that she managed to maintain an active social media life while keeping her baby bump under wraps still blows minds (via Vogue).
But many fans have gotten the hang of things by now. Thanks to their laser focus, it's been a while since the Kardashian/Jenner clan have managed to keep things under wraps for too long. Kylie couldn't even manage to keep her second pregnancy safe from suspicion, and rumors swirled, forcing her to finally confirm herself (via Entertainment Weekly). 
Fans dug so deeply to figure out if Kylie was pregnant or not that there was an entire corner of the internet dedicated to tracking her manicures and linking them back to older posts (via Buzzfeed). Such examples are why fans tend to take every alleged rumor about the family a little seriously, and in turn, the public has begun taking eagle-eyed fan rumors seriously as well.
So it's no wonder why the new formula for breaking a hidden-Kardashian/Jenner secret is paying close attention to the internet sleuths. And with the trusty online detectives clocking a tiny detail in an Instagram post, So, could it be that fans are right about this Jenner sister getting married?
Kendall and Devin Booker got off to an interesting beginning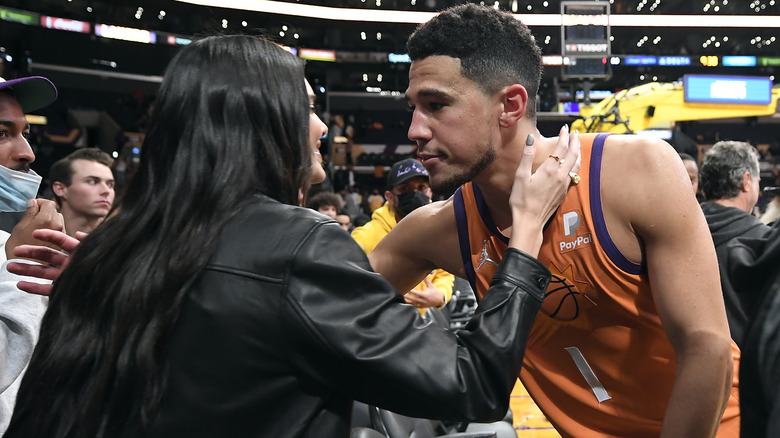 Kevork Djansezian/Getty Images
Each and every Kardashian/Jenner sister has their own level of fame, and Kendall Jenner is pretty high up there. The supermodel has always been a fan favorite out of the sisters for her under-the-radar and seemingly down-to-earth vibe in comparison to her sisters. Aside from every stunning look she serves and Instagram shot she posts, something that fans tend to fixate on is her dating life. While Kendall tends to keep things very private, she couldn't manage to hide her latest beau Devin Booker. Kendall and Booker have been linked since 2018 when he was messily linked to ex-friend Jordyn Woods (via Us Weekly). Long before Jenner started dating Booker, she took her then-boyfriend Ben Simmons on a double date with Woods and Booker.
Despite that somewhat messy beginning, it's not too surprising that Jenner and Booker reconnected. According to Us Weekly, she's dated a number of successful athletes. 25-year old Booker is an NBA player for the Phoenix Suns, he even competed and finished first place at the 2021 Tokyo Olympics (via People). A source told People of their relationship, "Devin is such a cool guy. He is very low-key and doesn't want to be a celebrity. He is very sweet to Kendall."
The couple was officially spotted together throughout the summer of 2020 when a source confirmed that they were unofficially seeing each other (via Us Weekly). Since then, things seem to have gotten very official with the pair seeming a lot more open to sharing the occasional loved-up Instagram story shot every now and then (via People). But until recently, fans just didn't realize quite how serious things could have gotten.
Devin Booker's gold band sparked the rumors
Over time, Kendall Jenner and Devin Booker have recently become less secretive about their relationship. Jenner has often been seen supporting her man at his games, and the couple is constantly getting papped strolling around hand-in-hand (via Elle). She might not be shy about PDA, but this time, it was Booker's hand that sparked wedding bell rumors.
On January 3, the couple shared a round-up of snapshots from their New Year's celebrations together (via Instagram). The shots showed the pair's cozy cabin getaway in the mountains, with photos of Jenner holding her 818 Tequila bottle, them cozying up to the fireplace, and an adorable mirror selfie of them cuddling. While a cute couple photo of the secretive pair is always welcome, a tiny barely detectable detail of the photo is what actually garnered a lot of talk.
Remember the fans' superpower detection abilities we mentioned? They noticed a thin metal ring on Booker's wedding finger and the internet has spiraled ever since (via InStyle). With the couple rarely sharing much about their relationship, it is possible that they managed to walk down the aisle undetected. Fans are just going to have to wait until the Jenners are good and ready to confirm the news, perhaps it'll be featured in their upcoming Hulu show — some even suspect this whole ordeal is a publicity stunt to promote the show (via Cosmopolitan).