Why Queen Elizabeth Sent A Letter To This Toddler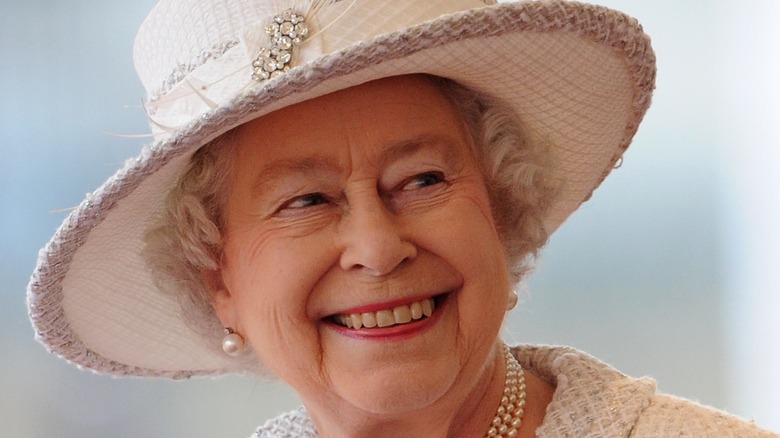 Wpa Pool/Getty Images
One toddler from Ohio stole the show with her 2021 Halloween costume. Little Jalayne Sutherland dressed up as Queen Elizabeth II for her holiday celebration and totally nailed the look, per People. The todder donned a powder blue overcoat with white tights and matching shoes. She also sported a white wig and a hat to match her coat, a log that the monarch is known for. The toddler added accessories such as a pearl necklace and a broach. She also carried a small handbag to fully replicate the queen's look.
Jalayne's parents took the costume one step further by posing the adorable little girl with two corgis, the breed of dog that the queen is known to have a very strong affection for. Jalayne's brother also posed alongside the toddler. However, he opted for a Superman costume instead of dressing as another member of the royal family.
The costume appeared to be a big hit, and even Queen Elizabeth herself couldn't help but share some love for her adorable mini-me.
Queen Elizabeth approved of the toddler's adorable Halloween costume
After dressing her daughter, Jalayne, as Queen Elizabeth II for Halloween last year, the toddler's mother Katelyn Sutherland decided to share some sweet snaps with the monarch herself. The Ohio native sent a letter that included some photos of little Jalayne from Halloween to the queen, and she was surprised to see that she actually got a reply, per Today. The Sutherlands received a letter from Windsor Castle from the queen's lady-in-waiting, Hon. Mary Morrison.
"The Queen wishes me to write and thank you for your letter, and for the photograph you thoughtfully enclosed," the letter read. "Her Majesty thought it kind of you to write to her, and The Queen was pleased to see the photograph of your daughter, Jalayne, in her splendid outfit. Her Majesty hopes you all have a very Merry Christmas, and I am enclosing a little information about the Royal Pets, which Jalayne might like to have."
It seems that Elizabeth approved of Jalayne's adorable Halloween costume.