What We Know About Jimmy Fallon's COVID-19 Diagnosis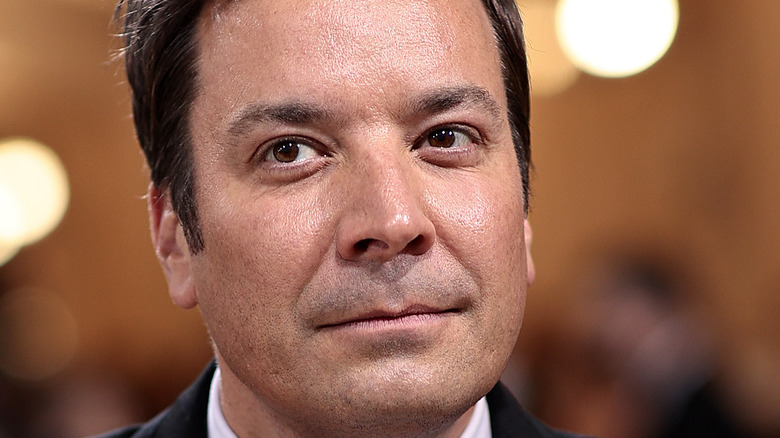 Dimitrios Kambouris/Getty Images
It was in March 2020 that the world was shocked by the Covid diagnosis of Tom Hanks and his wife Rita Wilson (per CNN). Now in January 2022, we've sadly become almost habituated to hearing that celebrities are just like us, in that they get Covid — Kim Kardashian, Jessica Simpson, Nick Cannon, and more (per Hollywood Life).
And Jimmy Fallon is now one of the latest celebs to reveal they got Covid. Fallon was both vaccinated and boosted, so his case was a breakthrough one (per The Hollywood Reporter). Dr. Anthony Fauci has previously confirmed that breakthrough cases with the latest Covid variant Omicron are somewhat to be expected since it spreads so quickly, per CBS News, and he said "The likelihood of a vaccinated and boosted person of getting seriously ill from the infection is very, very low." It sounds like this is what happened to Fallon.
Fallon revealed the news via Instagram with a picture of himself wearing a mask and in glass office and wrote: "Hey guys, on the first day of our holiday break I tested positive for Covid. I was vaccinated and boostered which made me lucky enough to only have mild symptoms."
Jimmy Fallon's daughters tested positive for Covid as well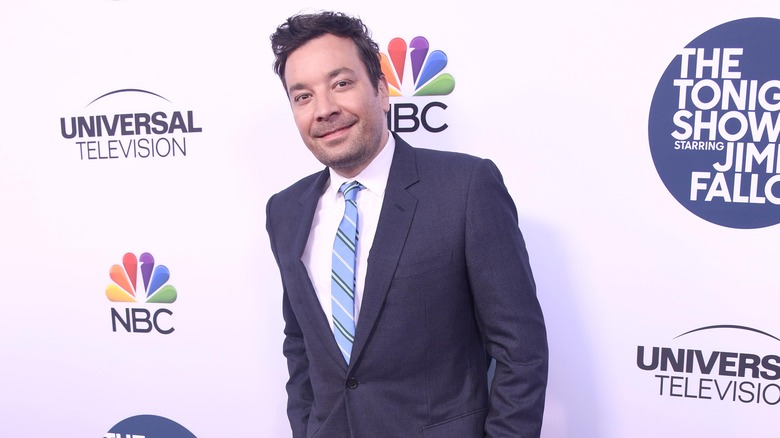 Frazer Harrison/Getty Images
Fallon went on to say, "Thank you to the doctors and nurses who work so hard around the clock to get everyone vaxxed. Thank you to NBC for taking the testing protocols so seriously and doing a great job — and also thanks for putting me in the 'What 'chu talkin' about Willis?' isolation room when they told me the news."
After the holiday break, Fallon was back on "The Tonight Show" in person. He talked about finding out that he had Covid before Christmas, saying that he was isolating in New York City while his wife and daughters went upstate. They had his daughters tested again, and he said "My girls tested positive as well. They're fine, everyone is fine, they had the sniffles. Frannie had sniffles for like two days. Winnie had no symptoms at all" (via YouTube).
With their positive diagnosis, there was a silver lining. "But, that meant I could go home and spend the holidays with the kids, so I did. It was a Christmas miracle."
He ended his Covid story thankful that he was vaccinated because he was sure he would have been very sick otherwise, and urging people to "get vaxxed, get boosted. Because, man, this thing it's a banger. It's a real thing."