The Most Inappropriate Outfits Lady Gaga Has Ever Worn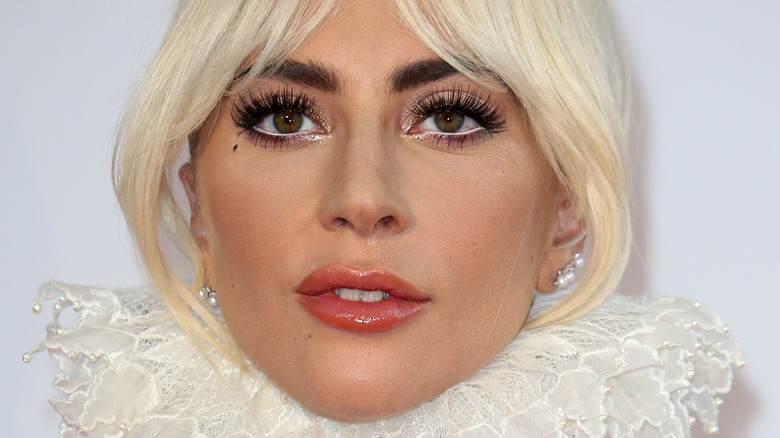 Cubankite/Shutterstock
Known for her glam-rock style, Lady Gaga broke into the music scene circa 2008 like a supersonic comet, with her larger-than-life fashion and lyrical chutzpah. Gaga, aka Stefani Joanne Angelina Germanotta, studied music at New York University for two years before leaving school early to conquer the music industry, per Marie Claire. The future star was inspired by some of rock's iconic theatrical performers of the '70s, such as Freddie Mercury, per Billboard. In fact, Gaga created her persona directly from Mercury, whose band Queen had a smash hit in 1984 called "Radio Ga Ga." However, the "Born This Way" singer didn't just take her name from rockstars like Mercury. Gaga also looked to them when it came to performance art and fashion — and she quickly became known for her unique blend of talent, interpretive style, and theatrical performances.
Since her early days in the industry, Gaga has used her glitter-spackled platform to raise her voice through her music and fashion choices. What some may consider inappropriate is merely her way of bringing attention to important topics ... but needless to say, it can get a little raw sometimes.
Lady Gaga's 2009 VMAs performance set the tone for her artistic expression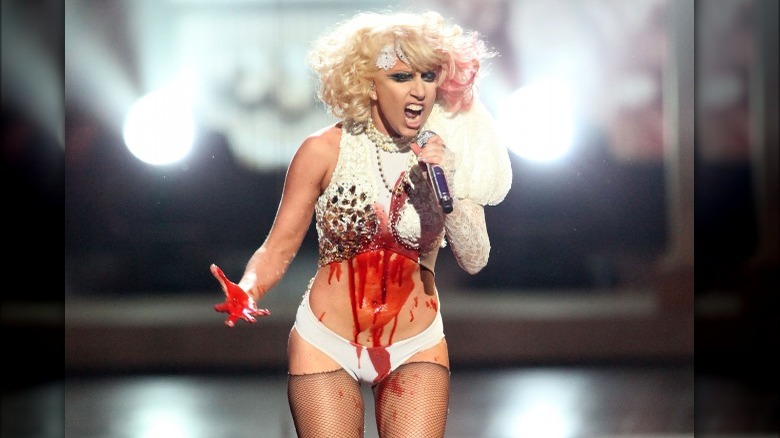 Christopher Polk/Getty Images
According to Britannica, Lady Gaga released her debut album, "The Fame," in August 2008. Billboard reported that "The Fame" reached multi-platinum status, and Gaga was invited to take the stage at the 2009 VMAs. While performing her song "Paparazzi," Gaga's white costume began dripping with fake blood, via Billboard. She ended her legendary performance by dangling from a rope, in an artistic interpretation of her own death.
Was the whole thing a bit dramatic? Absolutely, but there was a good reason, as with all things Gaga. At the time, the songstress was learning how to navigate a media landscape that she felt obsessively covered famous female entertainers' mishaps and growing pains. As a result, Gaga felt that the media created an unhealthy consumerism which maliciously targeted female entertainers, per Bustle. "If I'm gonna be sexy on the VMAs and sing about the paparazzi, I'm gonna do it while I'm bleeding to death and reminding you of what fame did to Marilyn Monroe, the original Norma Jean, and what it did to Anna Nicole Smith," Gaga said of her performance, via Bustle. Although her act was only one of the evening's wow-worthy moments — along with Taylor Swift's memorable speech — it still stands as one of Gaga's most enduring artistic moments.
Lady Gaga's infamous meat dress turned heads at the 2010 VMAs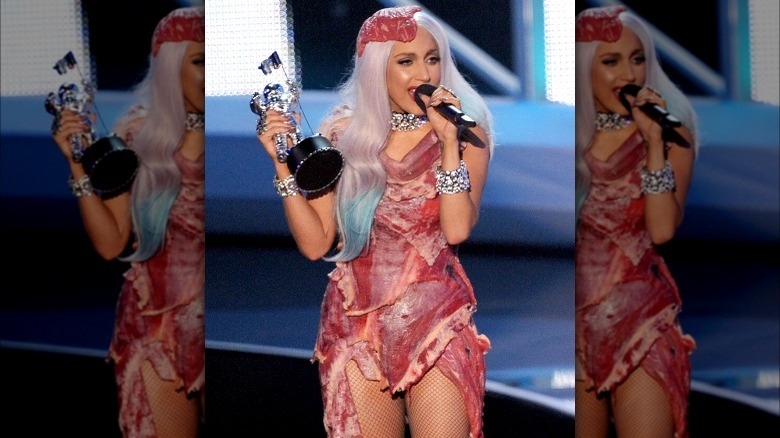 Kevin Winter/Getty Images
Just a year later, Lady Gaga wore her now-infamous meat dress to the 2010 VMAs. And for anyone wondering, yes, it was a couture creation made of real meat. This may seem wildly inappropriate at first glance, but the story behind the dress is thought-provoking. In a 2021 interview with Vogue, Gaga explained that the initial concept was based on a funny story that makeup artist Val Garland had told her, in which Garland attached sausages to herself while attending a party. Gaga thought this was hilarious, but it also got her creative wheels turning.
At the time, the country was embroiled in a debate over the military's LGBTQ+ "Don't Ask, Don't Tell" policy, per History. However, as Gaga shared with Vogue, "If you are willing to die for your country, what does it matter how you identify?" Channeling that raw emotion into fashion proved difficult. The icon's artistic team, Haus of Gaga, took on the challenge, and designer Franc Fernandez did most of the hands-on sewing, via Vogue. Gaga reminisced that she was sewn into the dress with the last bits of raw meat added on the day of the awards show. "It smelled like meat. It was thrilling to wear," she added.