Bonnets Are Back: Here's How To Wear Them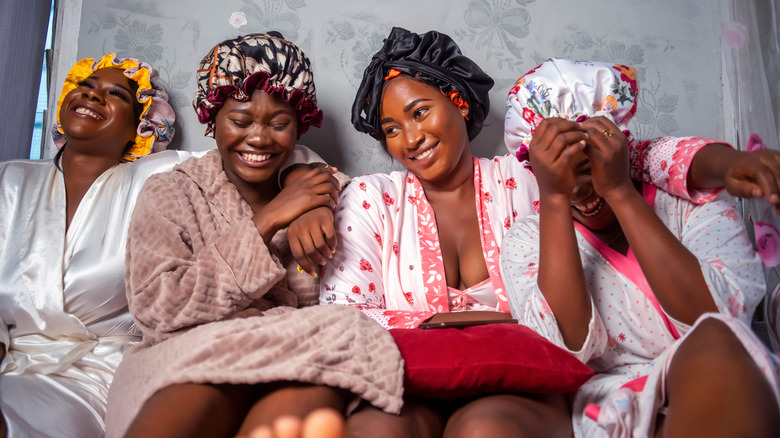 Yaw Niel/Shutterstock
The bonnet, a hair accessory that is often used by Black women to preserve an existent hairstyle or keep hair from tangling, became a fixture for some in 2021. Earlier this year, comedian Mo'nique's harsh critique of Black women wearing bonnets out in public sparked quite a bit of backlash. "I'm not saying it in judgment, I wanna make sure I'm saying it from a place of love," Mo'nique said in an Instagram video. "When did we lose pride in representing ourselves? When did we step away from 'Let me make sure I'm presentable?'"
In an editorial published by Allure about the resurgence of Black women wearing bonnets in public, many prominent Black women described why they felt empowered to wear the hair accessory. "Black women shouldn't have to be 'allowed' to do anything," Crystal Anderson, the co-founder and head of creative at A Very Good Job agency, told Allure. "At this juncture, we should be beyond reproach for the choices that we make in our lives. Hearing people pontificate on bonnets and policing Black women is actual insanity. Wearing bonnets is such a tender, interconnected thing for a lot of Black women and femmes and no one deserves an explanation for it. Our hair is complex and beautiful. It takes love and attention — there are some days that all we have the capacity for is a bonnet!"
This is how to wear a bonnet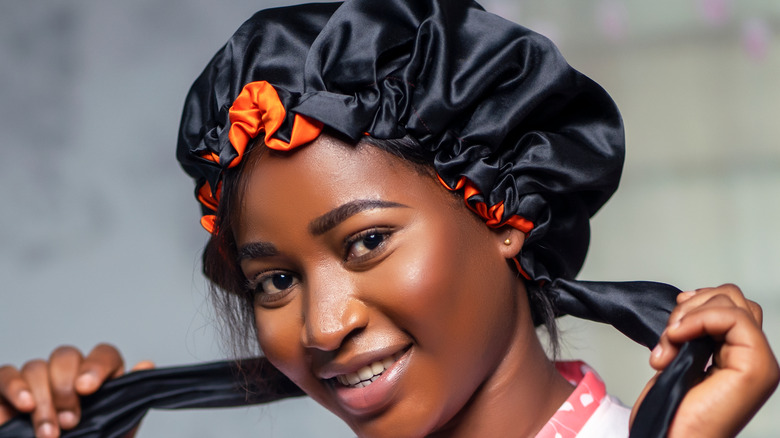 Yaw Niel/Shutterstock
First and foremost, wearing a silk bonnet can work wonders to preserve the integrity of any hairstyle. For those who want to go to bed with a perfect hairstyle without doing any damage to it, a silk bonnet can work wonders. According to Grace Eleyae, regularly wearing silk bonnets can protect your hair from split ends and dryness because it prevents your hair follicles from colliding with moisture-absorbing materials (like cotton). It also helps you avoid the general friction that can damage your hair. If you have curly or wavy hair, wearing a satin bonnet at night as you sleep can allow your hair to maintain its shape overnight.
Now that women feel comfortable enough to don their silk bonnets outside of the comfort of their homes, there are many styles to try out. As Elle reports, for those who feel liberated enough to wear a silk bonnet outside of their home, Cee Cee's Closet offers a brighter, louder, and bigger iteration of the silk bonnet. The silk turban can also be a more polished version of the bonnet. Self even reported that silk-lined baseball caps are a great option for those who are not yet ready to don a silk bonnet while out and about.