Is LA Colors Liquid Eyeliner Worth It?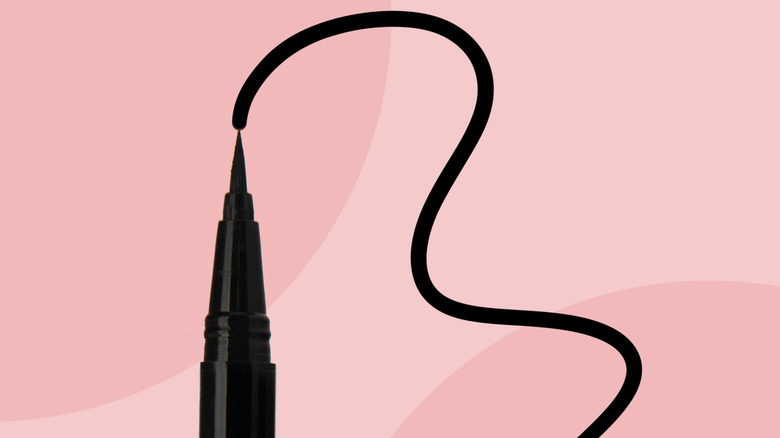 Fotaro1965/Shutterstock
We may receive a commission on purchases made from links.
When it comes to beauty items, it sometimes seems like new products pop up daily. As a result, sourcing the best cosmetics items of the season can feel just as daunting as finding a needle in a haystack. Even if you're able to narrow down the specific beauty product that you're looking for, there are hundreds of brands to vet before settling on the right one. Likewise, finding the best liquid eyeliner is no easy feat. And when you're looking for something that's just as good as it is affordable, your options become even more limited!
Thankfully, when it comes to finding a great, long-lasting liquid eyeliner that doesn't break the bank, there's one brand out there that really does have it all: L.A. Colors. While L.A. Colors offers tons of different items, their liquid eyeliner boasts rave reviews on Amazon. If you're looking to up the ante on your eye makeup, or even just browsing for new cosmetics, you've come to the right place. Here's why L.A. Colors is worth the hype.
L.A. Color's Liquid Liner has incredible reviews
Finding the right eyeliner can be tricky, especially during a time when many of us are becoming more experimental with our makeup palettes. Additionally, some of our favorite celebs are increasingly branching out into beauty lines, which can make us feel pressured to buy if we're a fan of said A-lister. However, the search for a new liquid eyeliner may be at an end, thanks to L.A. Colors. According to Amazon reviews, this product is one of the best out there and features a whopping 4.5 rating out of 91 reviews. In particular, fans are raving about how well it stays put, which is key in an eyeliner (and hard to find in an affordable brand!)
"You guys don't understand how much I love this eyeliner," one user wrote, via Amazon. "It can be a rainy day and your liner won't drip on your face it will look brand new ... and no mess cleaning it off doesn't smudge ... will buy for the rest of my life lol." No smudging even in the rain? Yes, please. If that gushing review didn't convince you, then maybe the price point will. L.A. Colors is currently listed at $5.75 on Amazon, so you can get a great liquid liner for less, without even leaving the house.