Why One Senator's 27-Hour Journey On I-95 Has The Internet Buzzing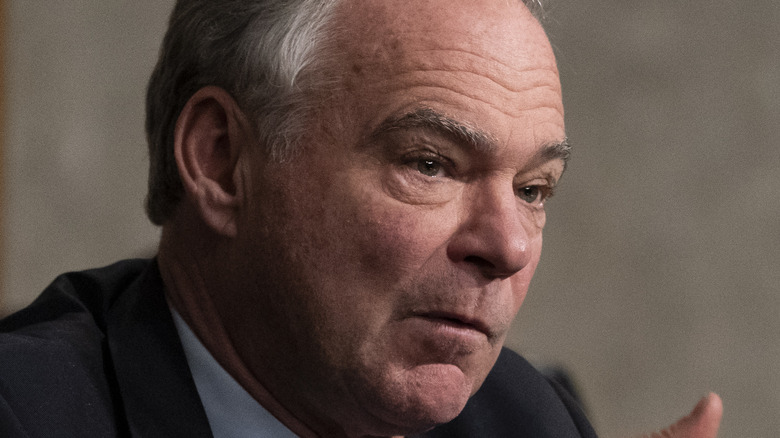 Pool/Getty Images
On Monday, January 3, the Washington, D.C. area experienced a snowstorm they weren't quite expecting and it caused dangerous chaos on one of the nation's most used interstate highways, I-95, which goes up and down the eastern seaboard. While snow was in the forecast, the region didn't expect the 10-12 inches it got, which caused gridlock that left drivers and passengers stranded in cars for up to 24 hours.
According to The Washington Post, the storm began as rain but quickly changed to snow and Virginia state police received a report that a large tractor trailer had jackknifed on I-95 near Fredericksburg. By afternoon the snow had stopped, but by then it was too late and gridlock began to form. By evening, there was another crash and officials responded to the second crash. Within hours, after hundreds of accidents had happened, traffic had come to a complete halt over a 40-mile stretch of I-95 (via The New York Times). One of the motorists stuck in that dangerous and cold situation was a senator who was just trying to get to work.
Tim Kaine's 2-hour commute turned into a day-long dangerous drive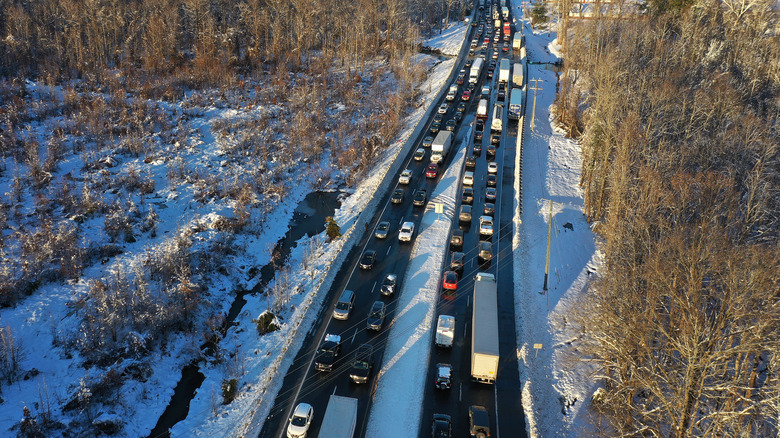 Chip Somodevilla/Getty Images
As traffic piled up on I-95 in Virginia on Monday, Virginia Senator Tim Kaine was trying to get back to the Capitol in Washington, D.C. after the holiday recess. He ended up stuck in his car over a 27-hour period, when the trip should have only taken him two hours, and used intuitive survival methods to keep himself warm and healthy, as so many other drivers had to do during that time.
When Kaine, who was Hillary Clinton's vice presidential running mate in 2016, finally made it to work he told ABC News he just wanted to eat. "I did it — 26 hours and 45 minutes. I am beat and I am very hungry," he said, explaining he only had one soft drink and an orange with him for the trip. He also explained what he had to do to survive.
"I was freezing," Kaine said. "It was about 11 or 12 degrees last night and you can't just run the car all night long sitting still or you run out of gas, which you need for the next morning, so you kind of have to run the car for 10 minutes to heat it up then turn it off for an hour and then it gets cold again."
Tim Kaine chronicled his ordeal on social media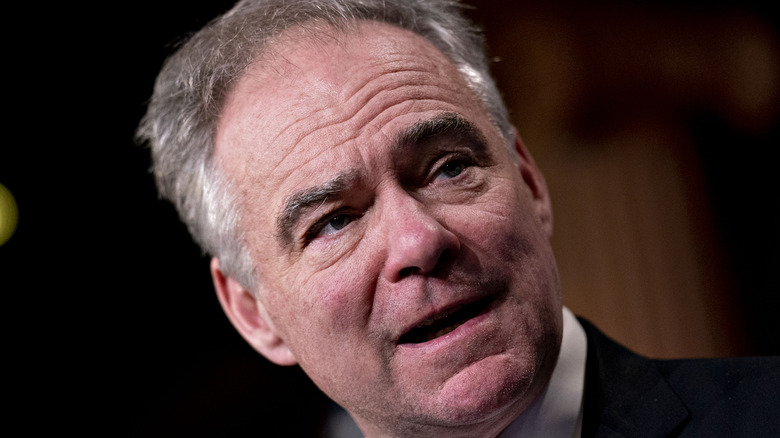 Bloomberg/Getty Images
While in his car for nearly 27 hours, Tim Kaine took to Twitter to explain what was happening and also offer a way to help people.
"I started my normal 2 hour drive to DC at 1pm yesterday. 19 hours later, I'm still not near the Capitol. My office is in touch with @VaDOT to see how we can help other Virginians in this situation. Please stay safe everyone," he tweeted.
In another tweet, he urged anyone in an emergency situation to get help. "I'm frustrated, but not in serious trouble. If you are in trouble on Virginia roads today, call @VaDOT at 1-800-FOR-ROAD."
When Kaine's long and perilous traffic ordeal was over and he was finally in DC, he tweeted that it was time to get to work. "Ok after 27 hours on the road from Richmond to DC, very happy to be back in the Capitol and working on voting rights legislation this afternoon."