This New OPI Line Is For All The Vegan Nail Polish Lovers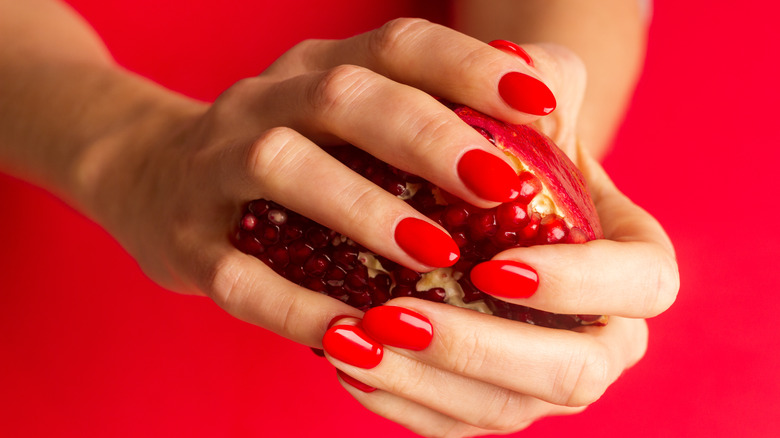 Ange P/Shutterstock
Whether you are painting your nails at home or getting a professional manicure at the salon, OPI Nail Lacquer is considered one of the best polishes for nails because they come in over 240 shiny and matte formulas, and they last without chipping for weeks (via Byrdie). Celebrity manicurist Kimmie Kyees is a massive fan of this brand. OPI has a range of themed collections and fun names like Chickflick Cherry, and at a drugstore price, they feel pretty luxurious (via Glamour).
But what we don't love about nail polish is that they can contain animal products and even formaldehyde that cause health issues (via Mind Body Green). Wouldn't it be better to choose a nail polish that didn't have those toxins and animal-derived ingredients? Say hello to OPI's new collection of vegan and cruelty-free nail polishes made of plant-based ingredients like sugar cane, wheat, and corn (via Veg News). Their Nature Strong line is available in 30 shades, free from toxic ingredients that are a massive component in nail polish, and we love that. What makes this line even cuter is that all the polishes are inspired by nature elements like flowers, sunshine, and fruits. They have names like Make My Daisy (a bright yellow) and Simply Radishing (a subtle mauve).
OPI co-founder Suzi Weiss-Fischmann told InStyle, "We wanted to answer the call for the more environmentally conscious consumers looking for more sustainable options when it comes to nail care." Great job, OPI!
OPI's plant-based line Nature Strong is better for your health and the environment
OPI Nature Strong is their first vegan collection available in a range of bright and neutral tones, and we feel good about using this nail polish that is good for us and the environment. Despite the vegan formula, these nail polishes dry super fast and last for a whole week. They retail for $11.50 and are available at Ulta.
Veg News recommends this to nail enthusiasts because this collection is non-toxic and made without harming animals. It is certified by The Vegan Society, so it's great for the little bunnies. The brand uses 20% post-consumer recycled material to make the bottles. InStyle is also a big fan of this non-GMO, plant, and mineral-based nail polish because they are 75% natural in origin, made of sugarcane, potato, and wheat. 
Live Kindly shared that this vegan nail polish line is also "9-free" and does not contain toxic ingredients like formaldehyde and parabens. OPI definitely got an upgrade by making this line because nowadays, people are more aware of what they're using on their bodies. Refinery29 is pleased that this legendary brand gives consumers ingredient-conscious products with fantastic quality and has chosen their glossy rose-gold shade Intentions are Rose Gold as one of their favorites. Doesn't it feel better to use sustainable and eco-conscious nail polish?