The Truth About Jimmy Kimmel's Uncle Frank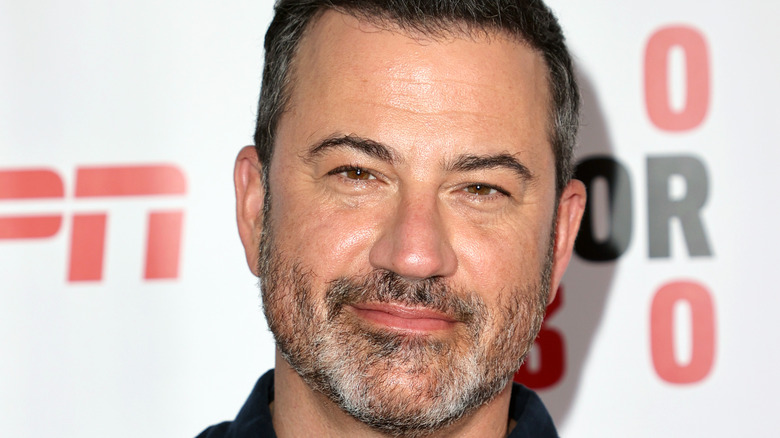 Kevin Winter/Getty Images
Jimmy Kimmel's late night show began in 2003 before growing into the fantastic, well-followed phenomenon it is today. Some watching the show now may not remember a time when the comedian had his real uncle, Frank Potenza, running the show with him, adding some quirk and injecting humor alongside his nephew.
Sadly, Uncle Frank, as he was fondly referred to, passed away after eight years on the show. He was 77 at the time of his death. The cause of his death was confirmed to be cancer, though doctors were not sure which form was the exact cause of death. Uncle Frank had "a few different kinds of cancer," noted Jimmy at the time (via "Today").
Jimmy Kimmel's Uncle Frank, a retired New York City police officer, is remembered today as a man who "contributed great moments" (via New York Post) to "Jimmy Kimmel Live!" between 2003 and his tragic death in 2011.
Uncle Frank created memories during his time on Jimmy Kimmel Live!
At the onset of the late night show, Jimmy Kimmel thought it would be nice to put Uncle Frank on the air — he thought his uncle's personality was a perfect fit for TV (via The New York Times). And so it turned out to be.
Although his official title had him listed as security personnel, Potenza spent quite a lot of time as his nephew's sidekick in front of the cameras while they performed comedy sketches, adding his two cents to issues in ways that elevated the comic nature of the conversation. At some point, Jimmy wisely started to leave spots open for Uncle Frank to throw in his opinions and jibes. They made a perfect team — Jimmy as the late night show host and his uncle as the foil. Uncle Frank's highlights on the show include his hilarious interviews with stars such as Meryl Streep and Tom Cruise (per New York Daily News) as well as his sketch about the royal wedding of Kate Middleton and Prince William (per The Hollywood Reporter).
After the death of his beloved uncle, Jimmy Kimmel could not hold back tears as he rolled out a heartwarming tribute, noting Uncle Frank's dedication to the show and sometimes arriving "10, 11, 12" hours before filming was to begin. "It's hard to believe he's now the 'late' Uncle Frank because he was never ever late for anything," the TV host said during his touching tribute (per The Hollywood Reporter).
Uncle Frank's life before joining Jimmy Kimmel's late night show
While his time on his nephew's show may have shot him to prominence, Uncle Frank Potenza had led a pretty eventful life before joining "Jimmy Kimmel Live!" He had served during the war in Korea before joining the New York Police Department, where he served for 20 years. He famously (and reportedly) made only six arrests in all that time because he believed that speaking to offenders was more effective than incarcerating them. "He believed a good pep talk did more good than time in jail," said Kimmel in a statement to The New York Times. Potenza also held a position as a security guard at Caesar's Palace in Las Vegas and at St. Patrick Cathedral in New York City before linking up with his nephew in Los Angeles (via New York Post) to great comic effect.
He was married to Concetta Potenza (aka Chippy) for 28 years before their divorce in 1997. The couple had three daughters — Ann Smith, Sally Flack and Micki Marseglia. He also had one granddaughter at the time of his death.