The Surprising Pair Of Shoes That Kanye West Is In Love With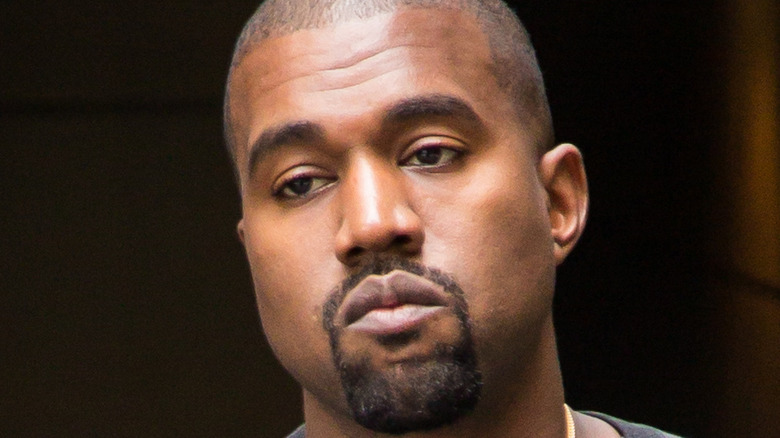 Liam Goodner/Shutterstock
Kanye West is what you might typically refer to as a crazy genius. The creative has made huge waves as a music producer and performer while pivoting into fashion with his successful Yeezy brand (via The Fashion Law).
One thing that has helped the 45 year old rise to success as one of the most prominent designers and style influencers today is his penchant for madcap and out of the box moves, often leading to raised eyebrows. For instance, he chose to ignore New York Fashion Week when releasing Yeezy Season 6 (per L'officiel USA). He instead chose to use social media and a select number of influencers for the roll out which was done in the form of a campaign.
The list of ingenious, sometimes brow-raising things Kanye has done may be long (via BET) but the genius designer still understands the value of basic fashion phenomena such as collaborations. Kanye has had collabs with several big labels and designers in his journey into the fashion world — from Nike (via Footwear News), to Adidas, late Virgil Abloh (via CNN Style) and very recently, Balenciaga (via NSS Mag).
It is this arrangement with Balenciaga which has provided the father of four with what now seems to be the pair of shoes he can't separate himself from.
Kanye can't peel off his special Balenciaga crocs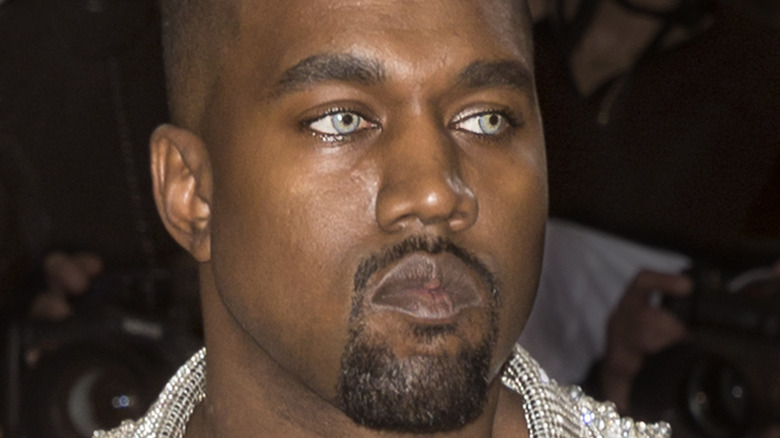 Ovidiu Hrubaru/Shutterstock
Owing the fact that Kanye West himself has designed some of the most acclaimed designer shoes in recent years (via With Otis), it is fascinating to find that the pair he can't seem to get enough of is not from his own catalogue.
The rapper looks to be besotted with his SS22 Balenciaga crocs which look to have been designed to have a feel of part crocs, part high-top boots (via Input Mag). Throughout the Thanksgiving weekend 2021, Kanye could be seen running errands and going out in the pair (via GQ). Rocking the $695 crocs, Kanye was spotted with ex-wife, Kim Kardashian who played host on "Saturday Night Live" in October (via Us Weekly). He went to a meeting with a former associate of Trump, Michael Cohen, wearing the same shoes, and when he showed up for a meeting with Vogue editor Anna Wintour, he wore them. He was again spotted wearing the black pair of crocs during a visit to Berlin, Germany (per Complex).
Kanye has had a couple of collaborations with Balenciaga in recent months (via Fashion United), working particularly with Creative Director Demna Gvasalia in the build up to the release of his Donda album in the final days of August 2021 (per GQ).
Kanye was even seen shopping for more Balenciaga items in Florida on New Year's Eve before he partied with Future, Quavo, and French Montana, per TMZ.