This Was The Most Expensive Necklace Sarah Jessica Parker Wore On SATC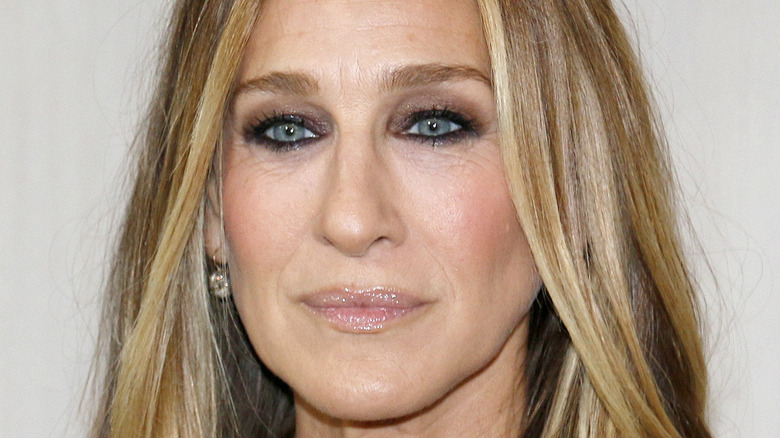 Tinseltown/Shutterstock
There's no denying that Carrie Bradshaw from "Sex and the City" goes down as one of the most fashionable characters of all time. Her closet might have been small, but it was definitely mighty. Her closet held everything from Dior bags to her infamous Manolo Blahnik shoes. There were also a whole lot of very expensive outfits. Outfits that, as Refinery29 found, cost anywhere from $2,000 to $29,000 in total. But it turns out that one of Bradshaw's most expensive accessories was even more expensive than that. 
Parker's character on the show wore some incredible outfits throughout the 6 seasons that the show was on air, but she really stepped it up when it came to the movies. During "Sex and the City: 2", Bradshaw was an established writer of three books, married to Big, who was an Entrepreneurial Financer (read: rich), and could just leave on a whim to Abu Dhabi (via MTV).
Bradshaw could also apparently afford a necklace that costs more than the average house. Yes, you read that correctly. You won't believe how expensive Parker's necklace is from the movie.
Carrie's necklace cost over $200,000
Carrie Bradshaw's outfits are always over-the-top. From $3,000 shoes to $80,000 gowns, Sarah Jessica Parker's character has worn it all. But the most expensive item that she wore on the show was a necklace from the brand Solange. According to Ever Outfit on Sex and the City's Instagram, the Solange necklace costs a reported $232,480. As in, a necklace that costs more than the average house. 
According to The Adventurine, the necklace was created by Solange Azagury-Partridge and is "set with set with square and princess-cut diamonds, emeralds, amethysts, rubies, black spinel and yellow, blue, orange and pink sapphires in blackened 18K white gold." Which, you know, explains why the necklace has such a hefty price tag.
Sex and the City is obviously a fictional show, which is worth noting. But all of the accessories on the show are very much real. Which means that while a writer from New York City likely couldn't afford this necklace, it still has a $232,480 price tag in real life.
The necklace was one of a kind
The Random Necklace — yes, that's the actual name — is a one-of-a-kind piece, naturally (via The Adventurine). It's no longer available on the brand's website, but there are other similarly colored and shaped necklaces available. Unfortunately, the price is only available on request or, in other words, just about as expensive as the other necklace (via Solange). 
It turns out that, according to Instagram, the Solange Azagury-Partridge necklace was housed at a London Boutique after it was seen in the movie. One Instagram user says they even tried it on. "And the necklace is divine in real life, I tried it on in the boutique in London," the comment reads. "It was also on display for a long while after."
If you didn't already realize that Carrie Bradshaw's fashion is on a whole different level than the rest of the fashionistas out there, then this should clear things up. A $200,000+ necklace is not your average piece of jewelry.