Princess Charlotte Looks Nearly Identical To These Royal Members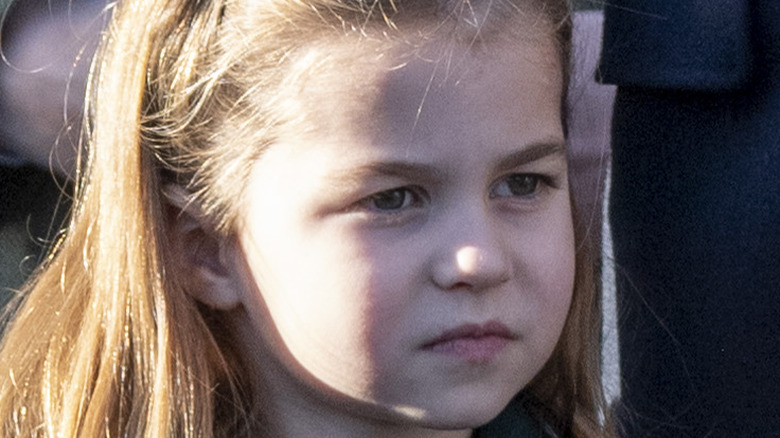 Uk Press Pool/Getty Images
In May of 2015, Princess Charlotte Elizabeth Diana was born. As the second child and only daughter of Prince William and Kate Middleton, Princess Charlotte is fourth in line to the throne, according to the royal family's official website. Though she is only 6 years old, Princess Charlotte already has quite a unique personality. Middleton disclosed to her friend Samantha Burge in 2017 that Princess Charlotte had already proven the fact that she was a born leader. "She said that Charlotte is growing up really fast. She is the one in charge," Burge told reporters, per People.
Just like every other family, Princess Charlotte's appearance has been compared to the appearance of many other members of her extended family. While Princess Charlotte's appearance is similar to those on her father's side of the family, according to Us Weekly, the young royal seems to have adopted her mother's habits. Princess Charlotte is more likely to be seen following her mother around and even mimicking her in truly adorable fashion. "Wherever Kate goes, so does Charlotte," a source close to the family told Us Weekly. "Whenever the housekeeper or Kate are preparing food, Charlotte needs her own toy set by her side to imitate." 
But who exactly in the royal family does this little one take after physically? According to royal fans, Princess Charlotte has an especially uncanny resemblance to a few different family members. 
Princess Charlotte looks quite a bit like Queen Elizabeth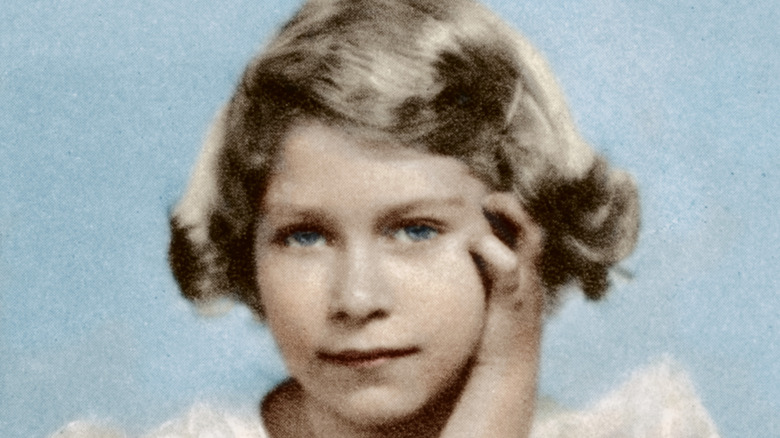 Print Collector/Getty Images
In celebration of Princess Charlotte's sixth birthday back in May, Kate Middleton tested her amateur photography skills by taking a picture of her daughter. Once the picture was released to the public, many took to social media to compare the only daughter of Prince William and Middleton to her great-grandmother, Queen Elizabeth II. "Princess Charlotte looks so similar to her great-grandmother (Queen Elizabeth II), and I find that a very beautiful thing," one user tweeted after the photo was released. 
Sites such as Insider really drive the point home by offering side-by-side comparison shots of the pair. "Charlotte has always had an uncanny resemblance to the Queen, even when she was a baby," the publication wrote. "As young children, they both had the same button nose and wide smile." We can't disagree.
In December, the release of the family's holiday card sparked even more comments about the similarities that exist in the appearances of certain members of the royal family. "Princess Charlotte is coming more like Queen Elizabeth, Prince George is coming more like Prince William, and Prince Louis is coming more like Kate Middleton," one royal fan commented, according to PureWow.
In terms of their personalities, though, Princess Charlotte could not be any more different from Queen Elizabeth. Unlike the outgoing Princess Charlotte, Queen Elizabeth was incredibly shy as a child — and even as an adult. During an interview with Vanity Fair back in 2013, Lady Pamela Hicks, a former lady-in-waiting to Queen Elizabeth, spoke about how shy the royal was upon ascending the throne in 1952. According to Hicks, Queen Elizabeth was "shy and prone to self-doubt" when she was young, per Express.
Princess Charlotte also resembles these members of the royal family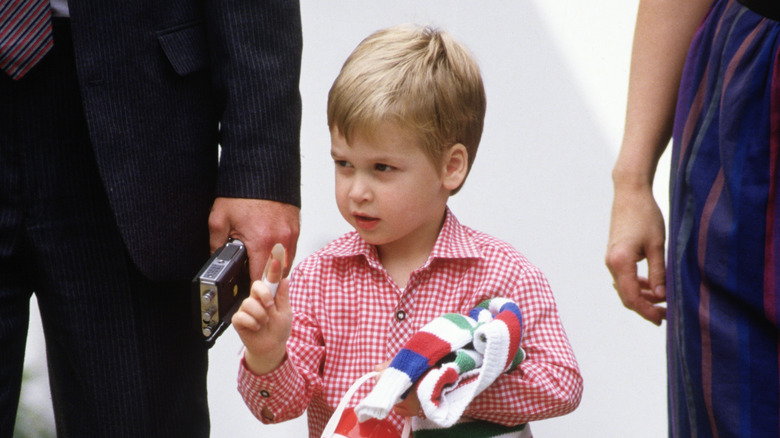 David Levenson/Getty Images
Aside from Queen Elizabeth, the public has marveled over Princess Charlotte's similarities in appearance to other members of the royal family as well. According to PureWow, such subjects include Lady Kitty Spencer, Princess Diana's niece; Sarah Chatto, the daughter of Princess Margaret; and her father, Prince William. Insider describes how the young royal inherited the latter's "cheeky smile" and "dark eyes." The publication also notes, however, that Princess Charlotte appears to get her adventurous spirit from her mother, Kate Middleton. You know what they say: Like mother like daughter! 
Prince William and Kate Middleton are hoping to emulate Princess Diana's parenting, which means providing normalcy despite their international celebrity. "They are preparing George and Charlotte for life in the royal family and keeping all the associated traditions, but at the same time, they want them to enjoy the same everyday experiences of other children their age, like going to the shops, the playground or petting zoo without any fuss," HELLO! royal correspondent Emily Nash said. "William, having grown up very much in the spotlight, is keen to protect his own children as much as he can. After all, they have a lifetime of royal duties ahead of them, so there is no rush!" 
For Princess Charlotte's parents, it is better that their children have a grounded and loving upbringing; appropriately enough, physical resemblances to other family members seem the least of their concern.