The Affordable Moisturizer Sarah Jessica Parker Swears By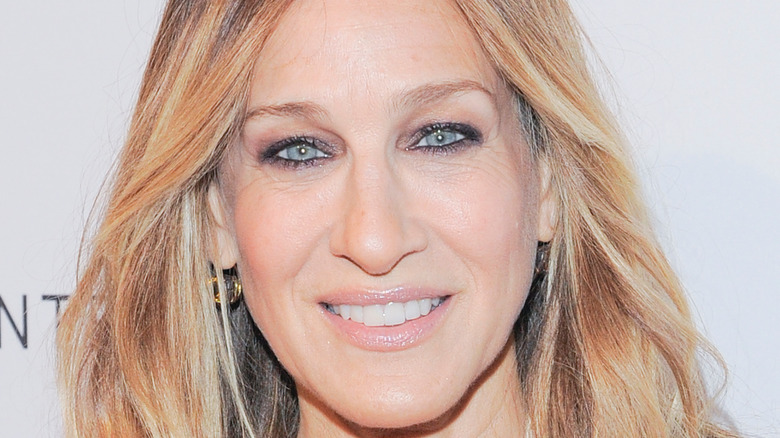 lev radin/Shutterstock
Sarah Jessica Parker gave us the beloved Carrie Bradshaw in "Sex and the City" and introduced many of us to Manolo Blahnik heels that we wish we could have in our closets. She has a publishing imprint, her own line of shoes (no surprise there!), and a perfume line called Born Lovely (via Observer). Though we might not be able to afford the crazy expensive outfits and shoes, we can own her favorite moisturizer, which has been her favorite for years. We are pleasantly surprised to learn that in a world of overpriced, luxury skincare products, SJP has remained loyal to her favorite moisturizer that she has been using "forever" (via She Knows). It is none other than La Roche-Posay Toleriane Ultra Moisturizing Cream (previously known as La Roche-Posay Fluide Soothing Protective Moisturizer). 
SJP told Today, "I only have one. It's the only moisturizer I've used forever." She added that she loves that it is very thin and uses it for touch-ups. And now, we want to get ourselves her favorite skincare product, which is available at Ulta. Her makeup artist Elaine Offers told Vogue, "For her very sensitive skin, only fragrance-free products are used." Offers added that is why the moisturizer is perfect for her and that the actress maintains her glowing skin by keeping her skincare and makeup minimalistic and simple.
Sarah Jessica Parker's holy grail moisturizer is perfect for sensitive and acne-prone skin
Sarah Jessica Parker's favorite moisturizer is both hydrating and protective, and hence it's her holy grail product (via She Knows). According to their website, La Roche-Posay Toleriane Ultra Moisturizing Cream is an oil-free moisturizer that soothes sensitive skin. It is infused with a combination of glycerin, Vitamin B3, and La Roche-Posay thermal water to keep your skin hydrated for 48 hours. No wonder this moisturizer gets rave reviews from beauty magazines.
Byrdie loves this gentle daily moisturizer because it has zero potential allergens, so it is excellent for those with sensitive and acne-prone skin. It also has squalane and shea butter for extra hydration. Allure is a fan of this "gentle yet intense" moisturizer because it hydrates, softens, and calms your skin. It is fragrance-free and a winner of the Allure Best of Beauty Awards. Makeup Alley gave it a 4 out of 5 stars because it is lightweight and ultra-hydrating, and the only thing they don't like about it is that it retails for $29.99 for 1.35 fl. oz. It is on the pricier side for such a small bottle. Women's Health recommends this moisturizer for people with fine lines. It is the perfect moisturizer to use after retinol because retinol can cause irritation. And, this moisturizer is non-irritating and highly moisturizing. Looks like we have found ourselves our next favorite moisturizer.