Is Nars Soft Matte Concealer Worth It?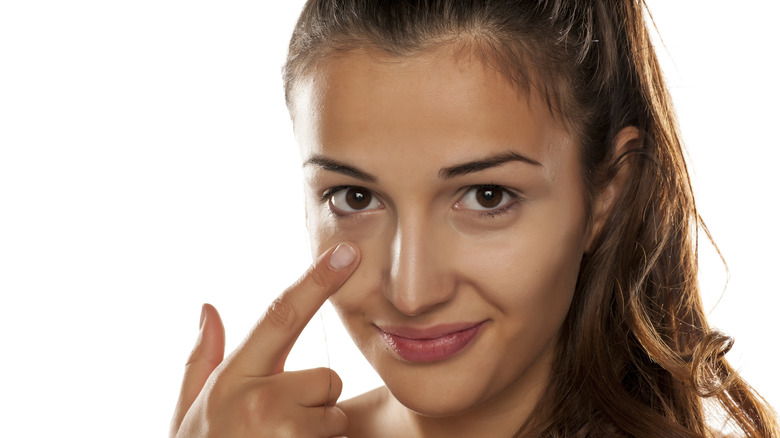 Vladimir Gjorgiev/Shutterstock
Concealers do more than just hide blemishes, and finding the right concealer for oily skin may seem tricky at first when everyone seems to be obsessed with the radiant and glowing finish. To tackle the grease on your face, it is essential to find a concealer with a matte finish that goes on sans the shine and lasts all day without budging or clogging your pores (via WWD). Portland-based makeup artist Analisa Marie told Byrdie, "'Oil-free, non-comedogenic, long-wear, waterproof, and lightweight' are all descriptors to look for when shopping for a concealer for oily skin." That doesn't seem too hard, right? Generally, liquid concealers are the go-to, but in this case, you may want to try a cream formula.
If you struggle with oily skin, you can always use a tinted moisturizer for your face and only use a full coverage matte concealer for trouble areas like dark circles and blemishes. Nars matte concealer does its job for that purpose because it blends into the skin beautifully and blurs all imperfections without looking too cakey (via Allure). Though it is matte, it has Optimal Diffusion Power to absorb light to make your skin look radiant without the extra shine (via Style Craze). And, did we mention it is long-lasting, so you don't have to worry about it budging all day? Nars has already given us the Allure Best of Beauty Award-winning cult-classic blush Orgasm and a radiant concealer, so let's see if their matte concealer is equally good.
Nars soft matte concealer covers all imperfections and feels like second skin
Nars Soft Matte Complete Concealer provides full coverage while blurring imperfections and concealing under-eye circles and redness. It is long-lasting and infused with peptides and a mix of Vitamins A, C, and E to make the skin appear smoother and softer. It comes in 30 shades, so you won't struggle to find one that perfectly matches your skin tone, and it is available at Sephora. It retails for $30 for 0.22 oz, which seems pricey for a small amount, but it delivers what it promises.
WWD chose this as one of the best concealers for oily skin because it is oil-free and provides a natural-looking matte finish. Its light-diffusing spheres hide all imperfections, and it has hyaluronic acid to provide hydration. Makeup Alley loves this concealer because it goes on creamy but dries matte, and the color selection is impressive. Style Craze is a fan because it is safe to use for acne-prone skin while covering fine lines and wrinkles. Byrdie recommends this as the best matte concealer because it is less creamy than other concealers for oily skin. And, it is loved for its ability to hide imperfections and correct discolorations with just the right amount of coverage. Allure considers this concealer as good as its radiant counterpart because it offers high coverage with a soft-matte finish, so it is perfect for those who want brightness without all that shine. Plus, a little goes a long way.