Here's Why Kylie Jenner Fans Think She Already Gave Birth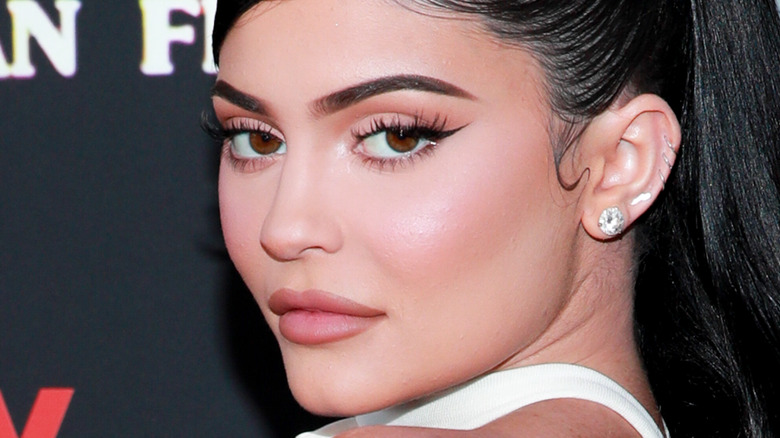 Rich Fury/Getty Images
Fans have been eagerly keeping up with Kylie Jenner's second pregnancy ever since she shared the news in September of last year that Stormi was getting a little sibling. Since the announcement she was expecting again, the reality star has updated fans with bump photos posted to her Instagram. But for some reason, her latest Instagram share has people speculating that she already gave birth (via Page Six).
First, a little math. If the star announced she was pregnant in September, let's assume she was already three months along, since this is a common time women share this happy news. Given that reasoning, Jenner might be due in March, which is six months later. No matter — social media is convinced the makeup mogul is a mom of two.
In her most recent photos of her pregnancy belly, Jenner is wearing a white button-down shirt and jeans unbuttoned to reveal her bump. She captioned the series of shots "I am woman." In a comment liked over 9,000 times, one follower wrote, "This is to throw us off !!!! She had the baby I know it." Other fans soon jumped on board the speculation train, adding fuel to the theory that Jenner has welcomed baby number two.
Fans think they have evidence Kylie Jenner already gave birth
After Jenner shared a carousel of images to Instagram showing off her burgeoning belly, fans pounced with theories that she had already given birth to her second child with Travis Scott. One commenter declared, "girl we know you had the baby already," while someone else said, "Show us the baby Kylie. I know you had it."
"Trying to convince everyone shes still pregnant heheh," another fan chuckled, and similar comments kept pouring in. "But you've already given birth babes, this is not throwing us," someone else wrote. Many fans referenced a TikTok video in which a fan offers what she believes is proof that Jenner was in fact already pregnant when she taped the "Keeping Up With the Kardashians" reunion special in April of 2021 (via The Sun).
The fan, Emily C Schwartz, explained on TikTok that Jenner didn't look like she really took a tequila shot with her family on the show, noting, "Kylie turned away from the camera to 'take' the shot — that's because she knew she was pregnant. So if Miss Kylie Jenner knew she was pregnant April 23, that means her due date was basically the last week of December."
Other fans noted that Jenner was missing from holiday photos shared by her sisters (via Page Six and The Sun). It's worth noting that Jenner waited to share the news that Stormi had arrived until she was good and ready (via Harper's Bazaar).