How To Keep Your Hair Healthy Using Vaseline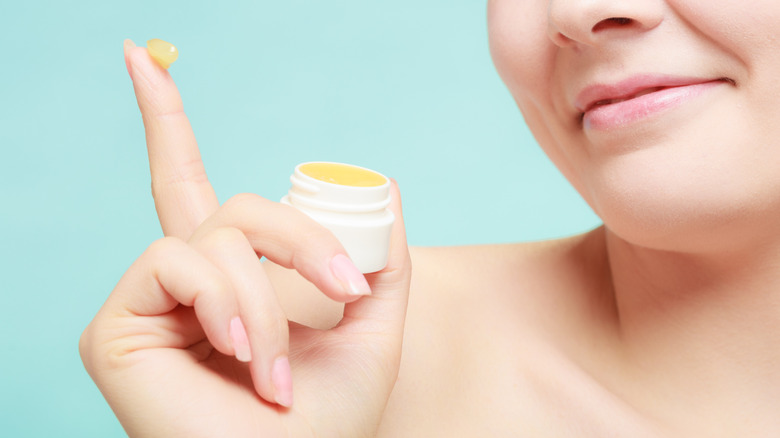 Voyagerix/Shutterstock
Looking for new, creative ways to keep your hair healthy? Or perhaps you need a quick fix for tangles, split ends, or frizzy hair? Believe it or not, vaseline might do the trick. This versatile product does more than just moisturize your skin — it can also make your perfume last longer, soothe sore feet, and prevent chafing. You can also use it as a natural remedy for brittle nails, cuts, scratches, or dry skin, says the American Academy of Dermatology Association (AAD).
This household staple contains a mixture of mineral oils and natural wax. The original Vaseline Jelly is free of harmful chemicals and impurities, making it ideal for sensitive skin (via Vaseline). You can even apply to your lips and eyelids to keep them moisturized throughout the day, suggests the AAD. "Vaseline is incredibly effective at softening severely cracked, dry, and inflamed areas. It also works by preventing loss of water in the skin, which allows natural oils to nourish and repair," dermatologist Dendy Engelman told Byrdie.
Given these potential benefits, it's no surprise that vaseline, or petroleum jelly, can benefit your hair as well. Here's how to use vaseline to keep your mane healthy year-round. 
Tame frizzy hair and fight split ends with vaseline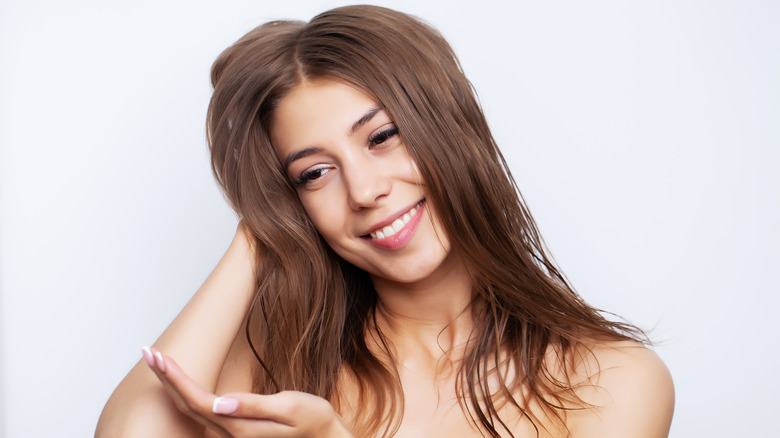 Yuriy Maksymiv/Shutterstock
Vaseline cannot replace your go-to shampoo or conditioner, but it has plenty of other uses. Byrdie suggests applying a dab of petroleum jelly to your hair ends to improve their appearance and seal in moisture. This versatile ingredient can also tame the frizz and add shine to your locks. Healthline explains that vaseline won't make your hair grow, but it may prevent breakage and nourish your strands. Use it directly on your hair or mix it into your favorite hair mask to reap the benefits.
Petroleum jelly may also help reduce dandruff and flaking, says Healthline. Simply massage it into your scalp and then wash your hair. Note, though — you may need to apply shampoo and rinse your locks several times for a thorough cleaning. If you're still having a greasy feel, mix a teaspoon of baking soda into your shampoo and then wash your hair again, recommends Healthline. For best results, use a clarifying shampoo.
If you prefer dying your hair at home, apply a small amount of vaseline along your hairline to prevent stains. Another helpful tip comes from PureWow — simply rub a small amount of petroleum jelly onto your scalp before washing your hair to relieve itching. As it turns out, vaseline may reduce excessive scaling, a common cause of scalp pruritus (via the American Family Physician). Apart from that, you can use this ingredient to style your hair and prevent dryness.