Here's How Bob Saget Really Felt About Being On The Masked Singer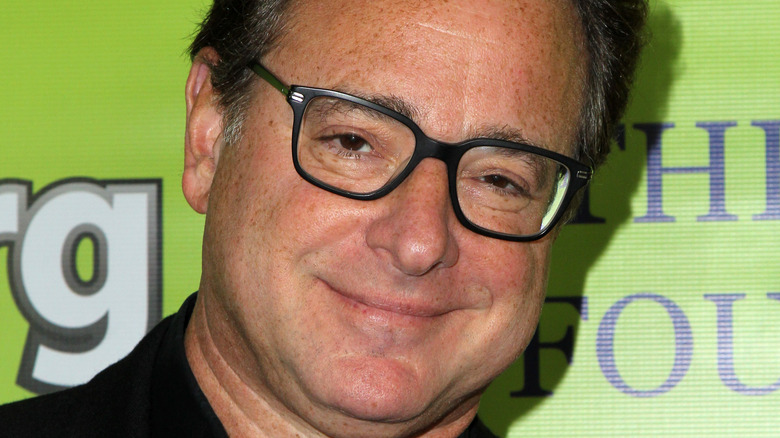 Kathy Hutchins/Shutterstock
Bob Saget's sudden death at age 65 leaves a huge hole in the comedy world. The shocking news left friends and fans devastated and disbelieving, particularly since Saget reportedly had no health issues, and there were "no signs of foul play or drug use," per the Orange County Sheriff's Office (via Twitter). Saget leaves behind his current and former wife, three daughters, and his place in sitcom and entertainment history.
Saget had appeared in smaller film and TV parts before becoming a household name with his role in the '90s series "Full House" and his hosting gig on "America's Funniest Home Videos." His career went on to include a number of other TV series, including "How I Met Your Mother," "Entourage," "Raising Dad" and the reboot "Fuller House" per IMDb, as well as his long-running stand-up comedy performances. He was finishing production of a documentary he directed about fellow comedian Martin Mull at the time of his death.
True to his love of unconventional humor, Saget tried his hand at something completely different in 2020 when he competed on "The Masked Singer." As Squiggly Monster (think "Beetlejuice" meets "Monsters, Inc"), he was comically creepy, but not clever enough to fool the panelists. In his second appearance, he sang "(I Can't Get No) Satisfaction" and was identified by four out of the five panelists, per Variety.
Still, Saget had no regrets, and warmly recalled the experience in an interview not long after the unmasking.
The "Squiggly Monster" wanted a vote recount
Speaking to Entertainment Weekly, not long after being unmasked, Bob Saget joked about being robbed of his rightful win. "I don't accept Squiggly being rejected," he said in mock outrage. "I want the Zoom audience of 'Masked Singer' to revote because this is unfair. It's a fraud." He then quickly added, "Actually, I wish our democratic system had been as amazing as the dignity that 'Masked Singer' has, how strong and careful they are about everything."
Saget had previously been asked to appear on the show, and the lull of the pandemic provided the perfect opportunity to take up the offer. The Squiggly Monster costume was an instant hit with the comedian, who said it reminded him of the three-eyed alien in the "Toy Story" series. "It just had a feeling of a childish, loving kind of thing," he told EW. However, he regretted that he couldn't have two of the creature's many eyes over his chest, and the huge head was awkward to work in. "It's hard to sing when you're constrained in a diving helmet," Saget recalled.
Though Saget regretted not being able to sing the other songs he had prepared — like Johnny Cash's "Folsom Prison Blues" — he didn't have time to dwell on it. He appeared as a guest panelist on the new singing competition "I Can See Your Voice," with his good friend Ken Jeong, and was looking forward to a busy year on his "I Don't Do Negative" tour.