The Surprising Reason Fans Think Kourtney Kardashian Is Pregnant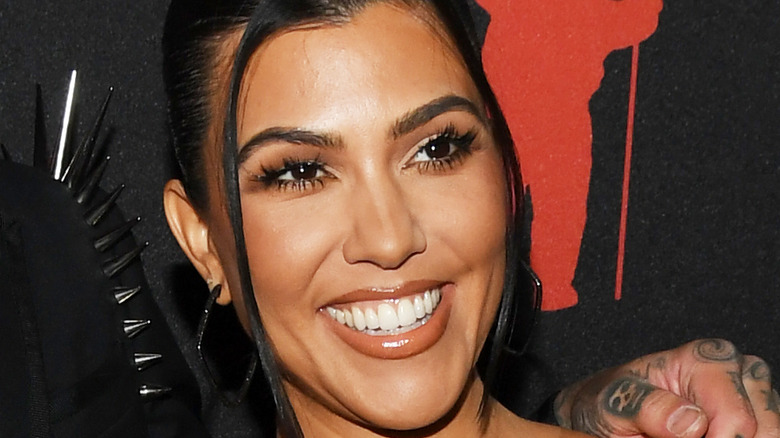 Kevin Mazur/mtv Vmas 2021/Getty Images
The Kardashian rumor mill is a wheel that eternally keeps turning. It's crazy to think how long the Kardashians and Jenners have managed to remain relevant, with new gossip circulating on what seems to be a daily basis. 
It's still unclear whether the reason there's always a rumor in the air is due to obsessive fans or if it has more to do with Kris Jenner orchestrating PR stunts to help keep them relevant (via Cosmopolitan). The viral saying "the devil works hard but Kris Jenner works harder" exists for a reason, after all (via The Daily Beast).
Each member of the Kardashian-Jenner family seems to have their own new rumor spreading at any given time, with each of them having a certain area of their life that intrigues fans most. For Khloe Kardashian, it's her ex-husband, Tristan Thompson's, infidelity. 
And, for Kourtney Kardashian, it's all about whether she's pregnant or not.
The rumor that Kourtney Kardashian is pregnant was inspired by a purse
Throughout the early years of "Keeping Up with the Kardashians," it seemed as though Kourtney Kardashian was constantly pregnant. Ever since having her youngest child, Reign Aston Disick, rumors have come and gone about Kourtney being pregnant again (via Elle). 
Considering that Reign is 7 years old, you'd think fans would have tired of the rumor by now. However, Kourtney is almost constantly denying rumors and clapping back at comments suspecting she's pregnant. A fed-up Kourtney even responded to a fan once (via Instagram), "Are we really gonna do this every time I post a photo?" 
While the speculation has often made little sense — it was once simply due to her fiance, Travis Barker's, hand placement — the latest has definitely taken the cake (via The Blast). On Jan. 9, 2022, Kourtney shared a seemingly innocent Instagram story of an avocado-shaped purse (via Cosmopolitan). 
Well, the photo was not so innocent, according to a circulating fan theory that this post, coupled with a post of Kourtney with her hand on her stomach, indicates that she is 16 weeks pregnant — since a fetus is the size of an avocado at 16 weeks. 
The theory was supported by a fan referring to an earlier Deux Moi post that claimed an A-list couple was expecting a baby in 2022 (via Instagram).
While it's certainly entertaining to watch fans doing such elaborate detective work, it's probably safe to assume this one is a huge reach.