Why Alison Sweeney Won't Return To Days Of Our Lives Full Time
Paul Archuleta/Getty Images
Alison Sweeney and her character Sami Brady have become iconic on "Days of Our Lives." The actress portrayed Sami for over 20 years before announcing that she planned to exit the NBC soap opera, per TV Guide. Sweeney dropped the bombshell during an interview on "The Ellen DeGeneres Show" in January 2014. "I've been on 'Days of Our Lives' since I was 16 years old, and I have never had more than a two-week vacation in that whole time," she explained. 
She Knows Soaps reported at the time that Sweeney decided to leave the soap in part to spend more time with her children. "I mean, it's awesome, I love Sami, I love Salem, I love my job, I love daytime, I love the fans. I love everything about it," the actress said. "I have worked so much and my daughter just turned five and my son is nine and I just want to be with them and enjoy my last year. I'm going to be on 'Days' all this year. We don't have a specific time, [she'll be off canvas] but I'm going to be on all this year and see what happens," she added.
Since exiting the soap opera, Sweeney has made multiple returns to reprise the role of Sami Brady and play out some very important storylines. She even starred in the sudser's first holiday-themed special titled "A Very Salem Christmas." But, would she consider returning to the role full-time?
Alison Sweeney loves returning to Day of Our Lives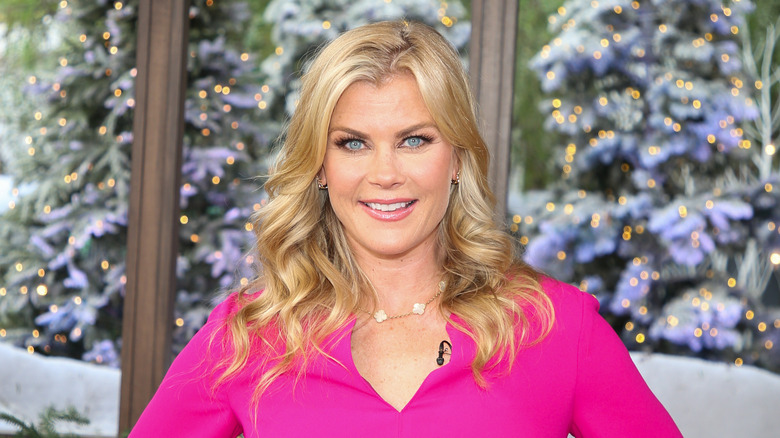 Paul Archuleta/Getty Images
Alison Sweeney is more than happy to reprise her role as Sami Brady on "Days of Our Lives" as often as she can. The actress previously told People that the role is always fun to play. "For me, what I love about the character and what keeps me coming back for more is just how she's the kind of woman who ... she's crazy, right? She can do anything. And I love this character because she is definitely willing to do anything to get what she wants," Sweeney said.
While the actress loves Sami, she admits that she won't be returning full time. "I love playing Sami but no, full-time is not the plan for me, because I produce and develop content for Hallmark, and for other streaming services. I love getting to do my own projects: I love producing," she stated. "The opportunity to go back to 'Days,' it feels like going home again, to be honest with you. It's like visiting my family during the holidays. I get to see everyone. I get to play Sami. I get to go home. But then I get to go out and develop these projects and do other things, and expand myself, and push myself," the actress concluded.
While "Days of Our Lives" fans might miss seeing Sami on a daily basis, at least they know there will be plenty of drama each time Sweeney returns to the role.