This Rainbow Contouring Hack Is Going Viral On TikTok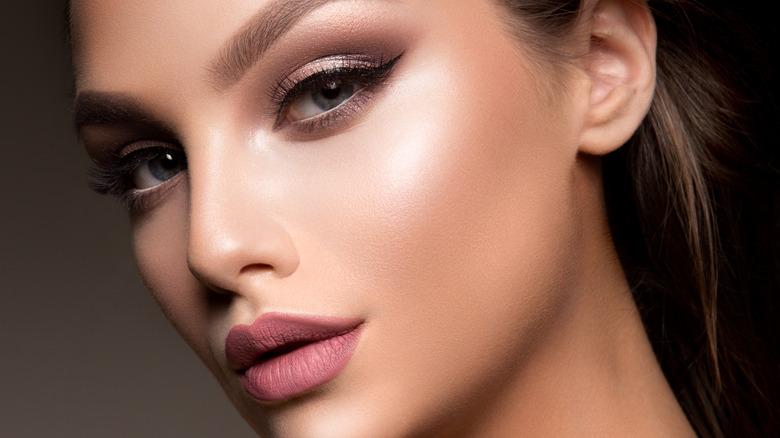 korabkova/Shutterstock
Makeup routines are highly personal — everyone has their own unique face shape, nonetheless their aesthetic preferences — but sometimes certain makeup trends apply universally because they're easily applicable and adjustable. Some of these applicable makeup ideas include bronzer and contouring techniques. After all, what makeup routine doesn't include these steps?
Once you've found the best bronzer and contour products and brands for you, it's time to focus on the latest trends for some extra fun, especially if you're someone who enjoys the playful side of makeup rather than only dipping into it for your practical wear. According to Vogue, one of the biggest contour trends over the last few years is the soft sculpting trend, which involves using less color than traditional contouring. Instead of visible browns and reds being noticeable on the face from one's bronzer and blush, many want their contouring to look natural and therefore more muted than before. Of course, all trends come and go, so you don't have to abandon your full contour just yet.
You especially shouldn't abandon your full contouring yet because another new, popular trend is called rainbow contouring and it may be just the routine game changer you need.
Rainbow contouring is quicker than traditional contouring techniques
Rainbow contouring is not nearly as intimidating as it sounds, and it actually to makes your makeup routine quicker and easier. According to Russh, rainbow contouring simply involves swiping stripes of bronzer, blush, and concealer across your face from cheek to cheek, including across your nose, and similarly on your forehead. Here, you should understand your face shape to understand where the stripes should go on your cheeks. If you do, you can jump right into this trend. (Some people also do foundation in this mix while others don't. Ruush notes that the foundation-free option is great for summer.)
According to Refinery29, rainbow contouring has gone viral on TikTok, and it's clear to see why. Once your stripes of products are in place, you spritz your face with setting spray and then smooth everything out with a (preferably wet) beauty sponge. The setting spray helps the makeup products blend together and disregards the need to spray it once blended, though you certainly can to lock it in even more. From there, you can add a little highlight if you want the extra sparkle.
The blending of products only takes a minute rather than individually applying products and blending after each one. Applying them all at once helps marry the individual products together, too, which can be harder when applying them on top of each other.
Ultimately, this trend is fun and may even be handy, so why not give it a try?