What Happened To Angel Shave Club After Shark Tank?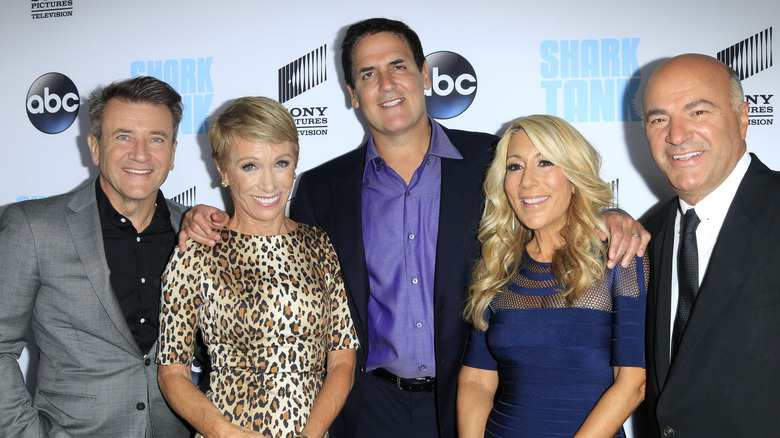 Kathy Hutchins/Shutterstock
Being on "Shark Tank " is a dream for most entrepreneurs and small business owners. After all, the show gives them and their products national attention, as well as the funds they need to make their dreams come true. Unfortunately, the sharks don't always bite. Take The Angel Shave Club for example.
When the 2019 episode aired, The Angel Shave Club was advertised as the first subscription-based club that supplied high-quality razors, lotions, and other shaving essentials specifically for women. The ladies who subscribed to the service were able to choose between two different razors, and receive blade refills every two to four months (per Biznewske).
Before the "Shark Tank" episode aired, the founder and CEO of The Angel Shave Club, Iskra Tsenkova, was enthusiastic about her chance to be on the reality show. "Being on Shark Tank has been a dream of mine ever since the inception of Angel Shave Club in 2016," Tsenkova said. "We have auditioned for the show three times and I am so excited for the world to finally learn more about our brand and to see what the future holds for us after the show airs," she added, per The Times of San Diego. 
The Angel Shave Club suffered during the COVID-19 pandemic
Sadly, the sharks all passed on Iskra Tsenkova's request of $300,000 For 10% equity in Angel Shave Club. But, what happened since her appearance on the show?
Before the episode of "Shark Tank" was filmed, Tsenkova's idea for a razor subscription service bloomed into a business. And at the start, it appeared to go smoother than, well, freshly shaved legs. The company earned approximately 2,000 subscribers in four months (via SEOAves). The Sharks were impressed by the numbers, but passed on the opportunity to invest. However, the company announced after the episode aired that they had since signed an investment deal with Quake Capital for $200,000 dollars. However, despite their acquired investment, the company experienced the ultimate razor burn and were forced to shut down in 2020 due to a lack of funding brought on by the COVID-19 pandemic, Biznewske reported.
"I don't have great news, after 3 years since we launched, we will unfortunately be shutting down our services due to Covid-19," Tsenkova announced on the Angel Shave Club website.
The Angel Shave Club may have been knocked down by the pandemic. However, it looks like the San Diego-based Tsenkova has moved on. She's keeping it zen after the loss of her business, and now works as a part-time yoga instructor, according to her LinkedIn profile.