Sarah Palin's Masked Singer Appearance Could Come Back To Haunt Her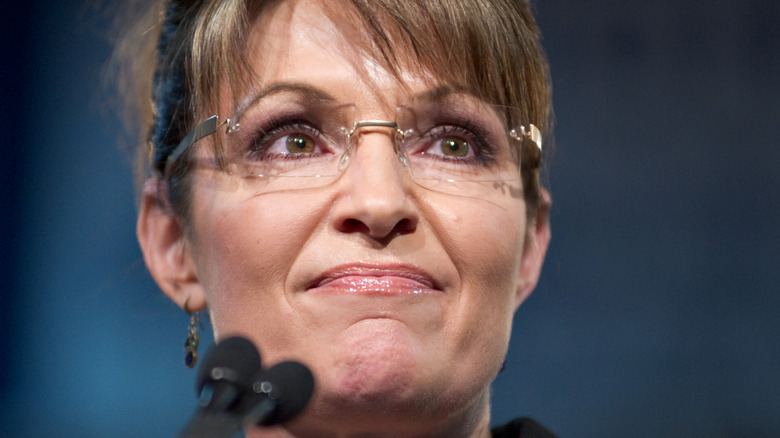 Christopher Halloran/Shutterstock
"The Masked Singer" is all about the big reveal but sometimes, the people under the costumes are better left hidden. As Entertainment Weekly reported at the time, controversial politician Sarah Palin was unveiled as the Bear during a Season 3 episode of the hit competition show and, in trademark form, described her decision to take part as a "walking middle finger to the haters." As Palin told host Nick Cannon, during the after-show, "I knew it would be so refreshing and so freeing ... I could do whatever I wanted to do and not care what anybody said because they wouldn't know until after the fact."
The former governor of Alaska, who was also briefly, and somewhat infamously, a vice presidential hopeful, was eliminated following a lively performance of Sir Mix-A-Lot classic "Baby Got Back," which Palin proudly admitted she already knew by heart. Appearing on "The Masked Singer" was among the wildest things she's ever done, but Palin argued it was also the most well-received. "I've been working for like 12 years with all these intellectual, political commentaries and all this — no reaction like I got from 'The Masked Singer'," she opined. "It was so positive. It was so encouraging. I just absolutely loved it. I just feel really blessed that you guys even asked me if I want to do it."
However, despite her enthusiasm at the time, the conservative pundit might now be regretting her decision to take part in the show.
Sarah Palin doesn't want the footage to be shown in court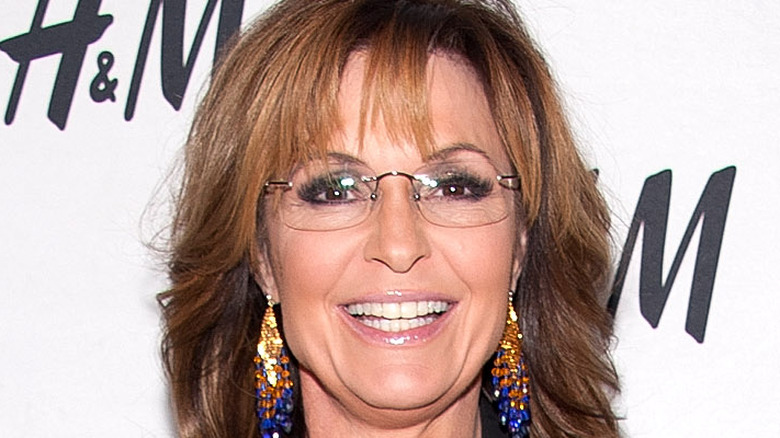 D Dipasupil/Getty Images
Sarah Palin's defamation lawsuit against the New York Times is going ahead, despite the esteemed broadsheet's attempts to have it thrown out. However, the controversial Republican is now requesting that certain things be omitted from the trial. Namely, her appearance on "The Masked Singer." According to the New York Post, the case, which was originally lodged in 2017, could finally go to trial in the coming weeks. Palin is accusing the Times of defamation, alleging they linked her to a mass shooting in Arizona that wounded Rep. Gabby Giffords. According to Palin, the newspaper inaccurately claimed her political action committee had compiled a map that put "Ms. Giffords and 19 other Democrats under stylized cross hairs."
The Times subsequently published a correction, acknowledging the map had actually "depicted electoral districts, not individual Democratic lawmakers." Although Palin is eager to get her day in court, she wants to ensure jurors are prevented from watching footage of her "Masked Singer" performance, alongside several other proposed exhibits, because they could potentially cause "unfair prejudice and confusion." Two of the listed exhibits are "Masked Singer Video — Dancing and Rapping" and "Masked Singer Video — Reveal." A judge will need to sign off on them before they're admitted for examination as part of Palin's suit. Her Instagram account is also included among the proposed exhibits. 
It's unclear why the Times chose the "Masked Singer" footage, in particular, but suffice to say Palin isn't impressed.