The Truth About The Summer House Property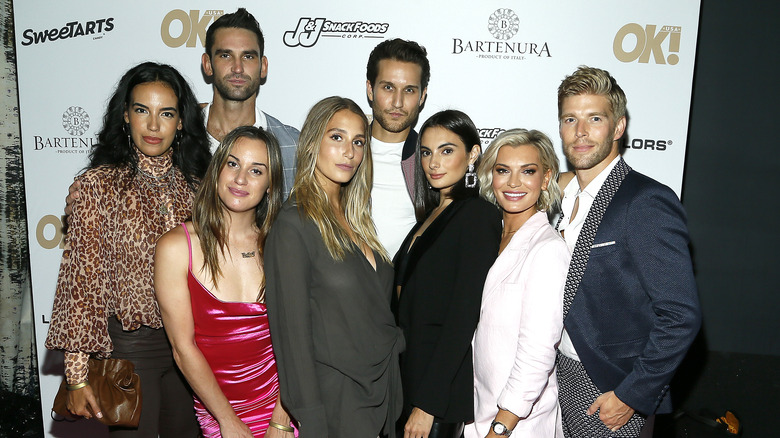 Paul Morigi/Getty Images
For over a decade, Bravo has provided millions of viewers will a nearly endless supply of reality television drama. One of Bravo's most recent ventures, "Summer House," introduced in 2017, has been an especially big hit among the network's fans. The show's cast was first introduced during an episode of "Vanderpump Rules" and consists of Millennials from New York who work in a variety of fields. Each summer, they spend their weekends at a large summer house in the ultra-wealthy town of Montauk, located in East Hampton just outside New York City, per Refinery29. Each season, the group of friends drink to excess, engage in tense love triangles, and get in monumental fights with one another.
While the massive house that served as the backdrop to "Summer House" is rarely discussed, the impressive nature of the estate is still hard to miss. According to House Beautiful, the house featured in "Summer House" is 6,500 square feet containing a wet bar, formal dining room, fully-furnished basement with an entertainment center and kitchenette, a separate in-law suite and "private guest quarters," along with many other impressive features. On the grounds of the property, which spans five acres, "Summer House" cast members (or anyone else lucky enough to rent the Montauk home) can enjoy the heated in-ground pool, hot tub, and tennis court. Back in 2020, the infamous "Summer House" went on the market for a whopping $4 million, per Realtor.com.
Neighbor drama likely caused producers to choose a new location for Summer House
Ahead of the premiere of the fifth season of "Summer House," it was revealed that the Bravo show would be filmed in a new house. Of course, in true "Summer House" fashion, the home, located in the Southampton area of New York, according to Newsweek, is incredibly fabulous. According to Bravo, the new house features spacious bedrooms, a tennis court, two refrigerators, a pool, a hot tub, and more.
This change in location is likely due to the number of complaints that Bravo received from the neighbors within close range of the show's first filming location in Montauk. According to Page Six, three families who purchased homes adjacent to the former "Summer House" home were unaware that a show was even being filmed in their incredibly quiet gated community. "They are not happy," the source close to these families told Page Six. "Apparently, [one family] watched the show and are now worried that their 3-year-old grandchild will be watching people having sex in the woods." "Not one of the buyers was advised before closing that their multimillion-dollar retreat is next door to where a trashy reality TV show is being filmed," another source revealed to Page Six.
Over the years, several businesses in Montauk and East Hampton have also banned "Summer House" from filming. In fact, after the first season of the show aired, the city of East Hampton actually denied Bravo the ability to procure a filming permit, according to Page Six.